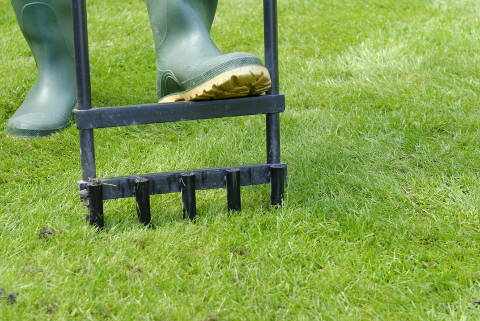 Compacted soil prevents adequate water retention and air circulation — two elements that plant roots require for optimum health. To check your soil, push something like a screwdriver into the ground. If it goes in easily, your soil is okay. If you have to push very hard, your soil may be compacted. Some causes of compacted soil are heavy traffic and an insufficient amount of soil organisms — critters especially designed to break down organic matter and improve soil structure and aeration, allowing more nutrients to be available to plants.
To aerate your soil, encourage organisms (earthworms and microbes) with a thin layer of compost and avoid pesticides and chemical fertilizers, especially the quick-release ones. Leave your grass clippings on the lawn.
Another means of aeration is to remove plugs from the soil, approximately 5 cm (2 inches) deep throughout your lawn. This is generally not recommended as too much air can speed decomposition of organic matter, leading to increased compaction.