July 1, 2008
By Stephanie Bonner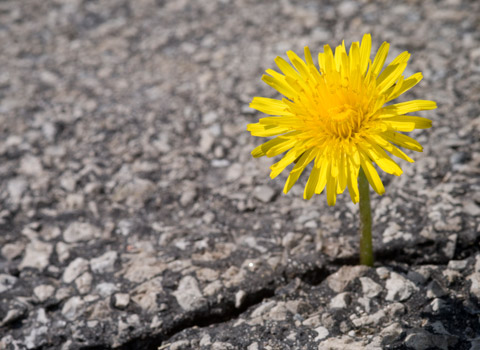 Spring has sprung, and along with the flowers in our gardens and buds on the trees can also come weeds through pavement cracks and mischievous insects that may dampen spring excitement. I know what you're thinking. Drop the can of pesticide. In fact, why not retire it entirely? We've got five great ways to keep your garden pesticide free and looking gorgeous. But before you toss it, make sure to contact your city to find out how to properly dispose of hazardous waste. Alright, let's get our hands dirty!
Wake-up Call
Did you know that coffee grounds are an all-natural way to provide soil with the nitrogen needed to fertilize flowers, grass and even vegetables? Even if you don't drink coffee at home, Starbucks franchises have started saving their coffee grounds (Grounds for Your Gardens) in an effort to be environmentally responsible. You can mix it in with your compost or right into your garden soil

Not-so-sluggish Solution
Do you find your beautiful hostas tend to look a little more beat up than bountiful by mid-summer? This year, try mixing a solution of equal parts water to vinegar and spray this solution around the plants when they are starting to shoot out, before the leaves open. If you do this for four to five days, you should be slug free for the summer

Heat Wave
When you work hard to keep your property presentable, it can be tempting to buy products that zap weeds fast. Unfortunately, the harm these products do to the ground water, helpful insects and the environment is a large price to pay. This year, try the free AND easy option: pour boiling water on troublesome weeds. To increase the effectiveness of this method, trim the weed down, pour a little salt on top of the weed and then add boiling water. This will kill and dry up your weed for good

Get Some Air
Looking for a lush, healthy lawn that will be the envy of all your neighbours? This year, try aerating your lawn in spring and fall to maximize oxygen intake and rejuvenate your grass. Think of it as an exfoliation treatment for your property! Usually, local landscapers or garden centres will offer this service, but they also rent out equipment to take care of the job.

Biodiversify Your Garden
2010 is the International Year of Biodiversity. Celebrate it in your garden by planting a wide range of native species. In doing so, you will be increasing the variety of helpful critters that will work to eliminate the harmful ones. And what more could you ask for than not having to lift a finger? We've got all the tools you need to create your perfect garden, whether you are working with shade, in dry or wet conditions or gardening for wildlife. Check out CWF's demonstration gardens for helpful ideas!