By Claire Preston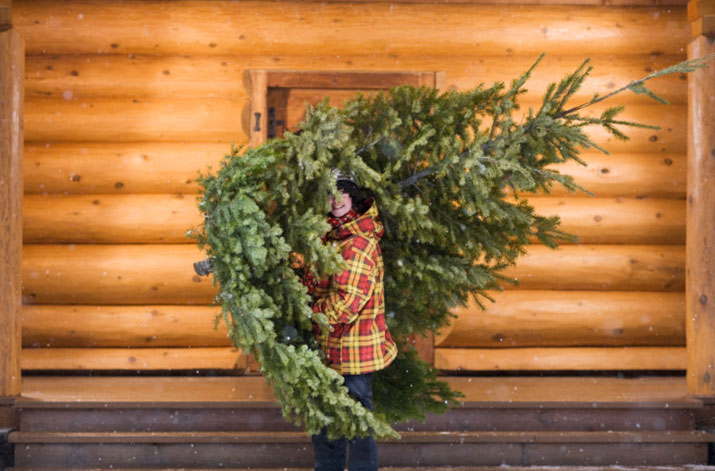 It may seem odd to think that cutting down a living tree for your Christmas tradition is a more environmentally friendly option than using a fake tree, however it turns out to be true! In Canada alone, there are 82,700 acres of land dedicated to growing Christmas trees. These trees provide habitat for birds and other wildlife species while the trees grow, and they sequester a significant amount of carbon dioxide from the air, replacing it with fresh oxygen. What's more, for every Christmas tree that is harvested, as many as 10 new trees are already being grown in transplant beds to take their place in the plantation, making these farms truly sustainable and eco-friendly. Convinced? Read on to learn how to pick and care for the perfect tree this Christmas!
One Week Before
When it comes to picking a tree farm, local farms are always the best, since the closer they are to where you live, the smaller the carbon footprint in transporting your tree home. Most tree farms use pesticides as a last resort, and often test other tried and true techniques first in the situation where a pest may be threatening their crop like depositing pheromone traps around the plantation to detect the presence of certain pests and introducing a natural predator or alternate food source to control the pest. But it doesn't hurt to double check how they manage pests.
Furthermore, most local farms offer species that are hardiest in your geographic location, so it's best to consult a guide to find out what trees grow where you live. One handy guide can be found at: www.canadianchristmastrees.ca/species - a great website that offers loads of information about choosing a Christmas tree in Canada.
Keep your trusty measuring tape and a hand saw in the entryway so you don't forget them as you head out the door.
Three Days Before
You're nearly ready to bring your tree home, but first you need to choose a location in your home where your tree will shine.
Do choose a cool, draft-free location, and try to avoid any space heaters, vents, fireplaces and appliances to prevent your tree from drying out quickly.
Do measure. How much space do you have for the tree? Keep in mind that the taller the tree you pick, the larger it's base will be, so make sure there is enough room on the floor for your tree.
Don't forget to leave enough space at the top for your star! You should have at least one foot of clearance from the top of your tree to the ceiling.
Do keep in mind how you plan to deck out your tree. This will determine what tree species to pick; some are sturdier and can support more, while some have wider spaces between branches and are a bit more delicate
The Day Of
After you've searched high and low at the tree farm for your perfect tree, it's time to get it home. Bundle it up with blankets for the ride, unless of course you're purchasing your tree from a lot, where they're usually already wrapped in netting. To avoid wind damage to your tree, position it so that the stump end is at the front of your vehicle. If you have a roof rack you should secure the tree with bungee cords or rope. No roof rack? No problem. You'll want to open all the car doors (not just windows), and tie the tree down to your roof with rope. And if you're finding the tree extends several feet past your vehicle's bumpers, tie a reflective flag to the end to warn other drivers.
Leading Up to Christmas Day
Now that your tree is home, you'll want to treat it right to ensure it thrives for the entire season. We've got some handy hints to make your Christmas tree a splendid sight.
- Before your tree is ready to come in, store it in a cool place out of the wind and rain
-Make sure your tree stand can hold four litres of water as well as the trunk of your tree
-Before bringing the tree indoors, cut one to two centimetres off the tree stump and then put it in water. But make sure that your cut is fresh; otherwise sap will seat the cut preventing water from rising up and your tree will dry out.
-The first water should be very warm, enabling the sap to flow steadily (no additives are required)
-Top up the water twice daily so the base of the tree never dries out
Boxing Day
After the holidays you can wrap the entire tree in a moving bag and bring everything outside, including the stand (this can be easily removed once the tree is on its side outdoors. You can contact your local municipality and find out where your tree can be recycled into mulch rather than just added to a garbage dump!