November 11, 2014
By Jerika Bradford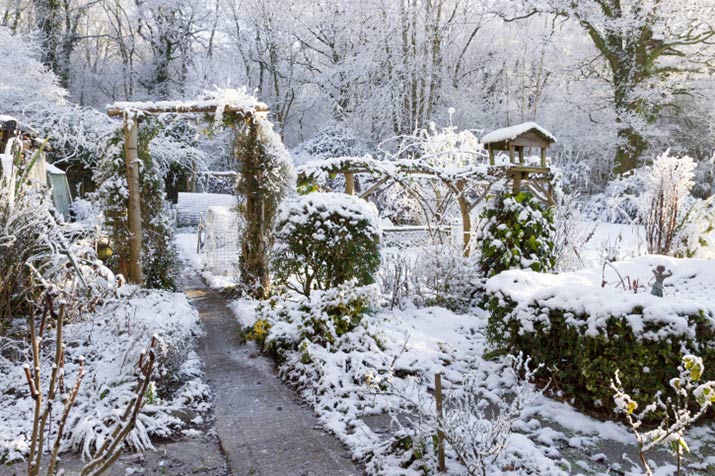 You've spent your summer working that magic green thumb of yours and admiring your beautiful garden. And now it's time to prepare it for winter. It may be a bittersweet moment, but what you do now will make it easier for you in the spring and help give local pollinators, amphibians and birds a fighting chance at surviving a cold, harsh winter.
For Your Buzzy Neighbours
Pollinators are responsible for one out of every three bites of food we eat. We need to do everything we can to give them a helping hand during these hard times. Here are a few tips and tricks to help these little guys make it through the winter:
Some bees overwinter in plant stems, so it's a good idea never to cut back an area of shrubs.
Allow some leaf litter to remain in your garden as an overwintering site for bumble bees.
Keep logs and old stumps in sunny areas; these are good for bees that nest in cavities.
For Your Feathery Neighbours
Can you imagine what a winter would be like if you didn't see song birds zipping through the air? Here are a few things you can do to help ensure birds have adequate food and shelter:
Leave stalks of sunflowers, rudbeckias, asters and goldenrod standing for birds to feast on the seeds.
That Christmas tree you're going to get in a few months? Don't chuck it to the curb after Santa has come to town! Keep it in a corner of your lot to help give birds shelter during a storm.
Keep bird feeders full and clean after storms. And don't forget to stock up on highly nutritious seed to keep songbirds plump and healthy.
For Your Hoppy Neighbours
Did you have a regular visitor this summer that was always hopping around your garden? If you did, you're pretty lucky! Amphibians help control unwanted bug populations. Don't forget to give them a helping hand this winter too!
Leave some piles of leaves in your garden for hibernating frogs, toads and salamanders to find shelter in.
For Your Blooming Backyard
Okay, now that we've covered off how to help local wildlife this winter, what do we do to protect plants and shrubs and all those beautiful flowers you planted this spring?
Spread leaves in a carpet under newly planted and established trees and shrubs to form a protective mulch.
Have trees or shrubs near the road? Wrap them in burlap to protect plants and trees from road salt.
Move your potted plants indoor or bury them in the garden soil.
After the ground has frozen, protect vulnerable plants from temperature fluctuations with 15 to 20 centimetres of mulch.