March 8, 2016
By Lauren Stoot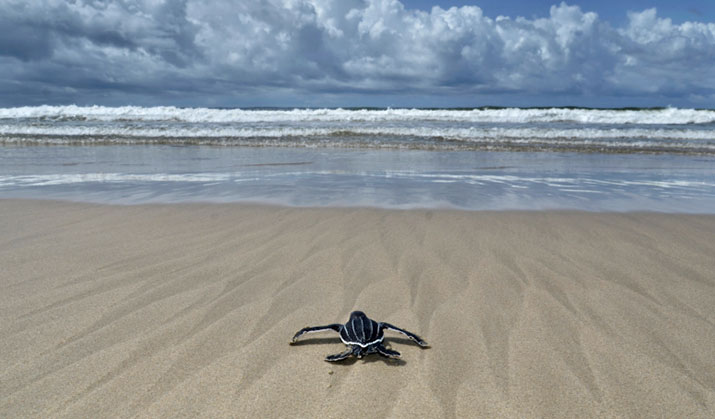 On March 3, World Wildlife Day, we tipped our hats to Amazing Abigail, the winner of the Great Canadian Turtle Race. This Leatherback Sea Turtle made it all the way to her overwintering grounds in Florida and we couldn't be more astounded by her great migration! We were so privileged to be able to witness her incredible journey. There's still plenty of news being updated about Abby and her race contenders over at GreatCanadianTurtleRace.ca so be sure to hop on over and enjoy!
March is a very exciting time for one of Canada's iconic marine species - the Leatherback Sea Turtle. The very same Leatherback Sea Turtles that spend their summer months off the Canadian east coast munching on jellyfish, have spent the last several months migrating south, in search of their natal nesting beaches, in hopes of nesting themselves. Reaching these nesting grounds is a huge accomplishment, as most turtles swim over 4, 500 kilometres, through the open ocean and a variety of obstacles. As they make this marathon migration, Leatherback Sea Turtles encounter a variety of threats, both natural and human derived, such as unpredictable weather patterns, predators, fishing boats and the possibility of being trapped in nets.
Atlantic Leatherback Sea Turtles nest on beaches throughout the Caribbean, South America, Africa and parts of the southern United States, making them a truly global species. In Canadian waters, Leatherback Sea Turtles are listed as Endangered under the Species at Risk Act, which protects them from harm and harassment in Canadian waters.
Protecting the Leatherback: A Joint Effort
Although protected in Canadian waters, Leatherback Sea Turtles migrate through and nest in various other countries that have different regulations in regards to their protection with marine turtles.
The United States lists the Leatherback Sea Turtle under the U.S. Endangered Species Act which protects the species as well as its habitat, as Florida has a large population of nesting Leatherback Sea Turtles. This protection includes nesting beaches as well as near shore foraging habitat and limits the construction activity on nesting beaches.
Countries such as Brazil, South Africa, Columbia, the Guianas and Trinidad have similar regulations to protect leatherbacks and their nesting beaches. Traditionally in these areas, Leatherback Sea Turtle eggs and sometimes even the turtles themselves were collected for harvest, but efforts have been put in place to limit this threat. Through implementation of community education and outreach programs, as well as listing the species as endangered in some of these areas, all harvest has essentially stopped. Furthermore, many of the above mentioned countries have conservation organizations aimed at monitoring and protecting Leatherback Sea Turtles in addition to other species of marine turtles.
Protecting the Leatherback: A Work in Progress
Although many countries protect Leatherback Sea Turtles, some countries still have many threats to the species. In countries such as Gabon and Ghana, which host large Leatherback Sea Turtle nesting populations, Leatherback Sea Turtles are still harvested for their eggs and meat, which although is illegal in Ghana, is still popular due to its high value at market for food.
Entanglement in fishing gear, or "bycatch" is also still a threat to Leatherback Sea Turtles in all countries, including Canada. As Leatherback Sea Turtles make marathon migrations, they spend time in many coastal waters which are important fishing grounds, for things such as shrimp. Although some countries, such as the United States, Suriname and Guyana, have implemented the use bycatch reduction devices and strategies which limited the capture of bycatch turtle species in fishing gear such as shrimp trawlers and long line fisheries. These devices (such as a Turtle Excluder Device on a shrimp trawler) and strategies (such as seasonal and regional closures to fishing areas) are not mandatory for all countries. Many countries are in the process of incorporating these devices and strategies into their turtle protection programs.