By April Overall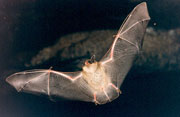 Little brown bat / Photo: M.B. Fenton
Bats may stow themselves away in caves, mines, attics or barns in preparation for winter, but they could never prepare for what old man winter has had in store for them lately.
At first glance, bats affected by white-nose syndrome look as though they've stuck their noses where they don't belong — the flour jar. This powdery substance, however, is actually a white fungus that can coat their noses, wings, ears and tails. Scientists are not sure whether the white fungus is the cause of white-nose syndrome or simply a symptom of the problem.
Nevertheless, bats affected by this syndrome lose much of their fat reserves, which they use to survive the winter, and can be found flying outside during the day and hibernating at the entrance of their hibernaculums — a rare sight for bats that usually hibernate deep within their hibernaculums. The result? Bat Conservation International reports that white-nose syndrome is responsible for the deaths of tens of thousands of bats.
To date, the Eastern pipistrelle, little brown, northern long-earred, small-footed and Indiana bats have been affected by the syndrome in New York, Vermont, Massachusetts and Connecticut. But if you think Canadian bats are safe from this deadly syndrome, think again. "We don't know how it's spread," says Jon Reichard, a bat researcher at Boston University. "If bats spread white-nose syndrome while aggregating in the summer, then we could see an outbreak in Quebec." Why? Bats can migrate between 200 to 300 miles and Northern New York bats are known to mingle with Quebec bats during the summer.
Another theory is that humans are transmitting the syndrome. "We're concerned about humans carrying white-nose syndrome from one cave to the next. If it is a fungus causing this syndrome, then a spore on the floor can be carried on to the next cave. Even if the mud from your boot is dry for ten years, a capsulated spore could still be alive and walking into another cave could transmit the syndrome," says Reichard.
Reichard's team will be on the lookout for any signs of white-nose syndrome this December as the syndrome usually manifests after bats have gone into deep hibernation. Over the summer, however, Reichard caught sight of bats that showed signs that they had survived white-nose syndrome. These bats had scarred wings, ranging from superficial scars to severe. "Some bats only had 25 per cent of each wing left – the rest had flaked off," says Reichard. "It was amazing to see that they were still flying. They couldn't fly efficiently enough to catch insects though, so they were starving."
What should you do if you find a bat you suspect is carrying white-nose syndrome?
Don't touch it. Although there is no indication that humans have fallen ill after being in contact with affected bats, bats carry other diseases that can be transmissible.
Do contact your provincial wildlife department should you observe bats flying out in the snow in December or if you spot a swarm of bats hanging on the outside of their usual hibernacula - caves, mines, attics or barns.
Don't go into caves, mines, attics, barns or other areas where you believe bats may be hibernating. "One hypothesis for the syndrome is that bats are waking up too often during hibernation, causing them to eat into their fat reserves," says Reichard. Too many visits to their resting spots could do damage to these furry fliers.
Learn more about bats in Canada with the CWF Wild About Bats poster and handout.