January 19, 2016
By Niki Wilson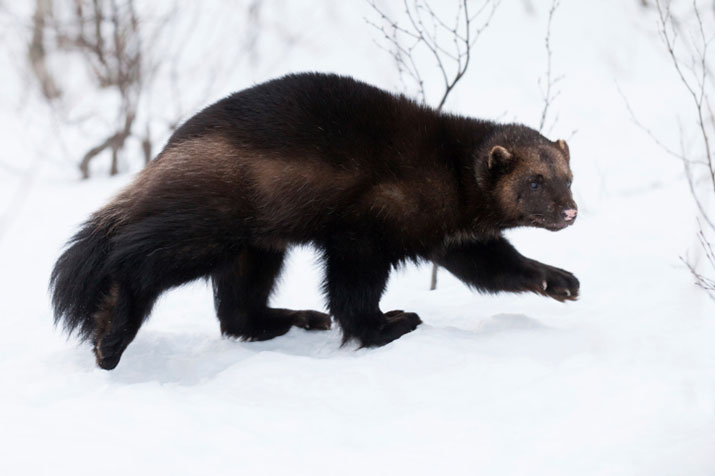 This February or March, somewhere in the deep snow of the Rocky Mountains and Foothills, Wolverine mothers will build snow caves in which to birth their young. The dens will provide protection from predators, and insulation from the cold until the young are hearty enough to weather the dangers of the world outside.
Deep and persistent snow is key ­– research suggests Wolverines prefer a snowpack of over a metre that lasts well into the spring. And it is this dependence on late winter and spring snowpack that makes them vulnerable to changes in climate – changes that could diminish snowpack through earlier spring rains and warmer temperatures.
Wolverines are one of many species whose behaviour is driven by winter. As climate change modifies winter conditions, invariably Wolverine and many other species will feel an effect. But understanding exactly how a species will react is complicated, says Dr. Brent Sinclair, an associate professor in the Department of Biology at the University of Western Ontario.
"There's a strong tendency to frame climate change in black and white, and it's not," says Sinclair, who adds that in order to mitigate the possible effects of climate change, scientists must identify which species will benefit, and which will be vulnerable. Given the range of species' physiological and behavioural responses to winter, and the variation in how climate change will affect specific regions, it's a complicated business.
As complex as it is, in a paper soon to be released, Sinclair and colleagues Caroline Williams and Hugh Henry present a general framework for predicting the impact of winter climate change on terrestrial organisms. In the paper they review what is known about the effects of winter climate change on species across the globe.
They say species will be impacted from changes to winter temperatures, the variability of winter conditions, and changes to winter snow cover – but not all in the same way. There are many possible outcomes.
For example, it is well known that cold winter temperatures limit the activity of mountain pine beetle, says Sinclair. In this case, the relationship is relatively straight forward, and warmer temperatures will likely allow the beetles to advance. But in other cases, it's more complex.
For some areas, climate change models predict smaller snow packs and less snow cover. They also predict a greater frequency of freeze-thaw cycles throughout the winter. This combination may be problematic for amphibians like the wood frog, which use an incredible amount of energy to prepare their bodies to freeze solid each winter. Sinclair says a deep and consistent snow pack helps insulate them from changing temperatures, allowing them to maintain their frozen state. Thawing and re-freezing several times over the course of a winter will quickly drain their energy reserves. "A decrease in the amount of snow will potentially restrict their distribution," says Sinclair.
Warmer temperatures in the fall and early winter season may also prove detrimental to species like the Propertius duskywing, listed as a species at risk in BC. The butterfly completes its lifecycle in a year. Says Sinclair, "Once it has finished feeding in the fall, the energy that it takes into winter is all the energy it has to survive, and then to turn into a butterfly at the end of it." Caterpillars exposed to warmer falls and winters are more active, and they use more energy than they should. In the end, says Sinclair, this means the butterfly that emerges in the spring will be smaller, if they survive at all. "These butterflies will have fewer offspring, which means the population declines."
Conversely, some animals may benefit from warmer winters. For example, the Black-capped Chickadee is a species that spends up to 30 percent of its body weight every night just to stay warm. Like many small birds, surviving the winter is a delicate balancing act of eating and resting. Though recent studies suggest chickadees are well adapted to survive short-term extreme cold and bad weather events, they cannot survive if prevented from feeding for more than a day. Warmer temperatures may mean less energy is required to stay alive in the winter months. However, some types of extreme weather events, like ice storms, can encase their food in ice and starve them. An increased frequency of this type of event would leave the chickadees more vulnerable.
Sinclair says climate change is creating some worrying mismatches between some species and the emergence of their spring food source. He explains that in general, a major cue that causes birds to migrate is change in length of day - birds tend to fly north at roughly the same time every year. But the insects they feed on when they arrive develop in response to temperature, not daylight. When springs are warmer earlier on, caterpillars and other larvae develop earlier. "When the birds arrive and start looking around for these insects to feed their babies, the caterpillars have already grown up and gone away."
As Sinclair says, winter is important – from the initiation of hibernation, to the fattening of the body to resist cold, to the maintenance of snow pack and its power to insulate. With so many northern species adapted and dependent on a range of winter conditions, continuing to understand which species are vulnerable, and how they may be affected, is key to any possibility of mitigation.
Originally published in Wild Lands Advocate.