By Terri-Lee Reid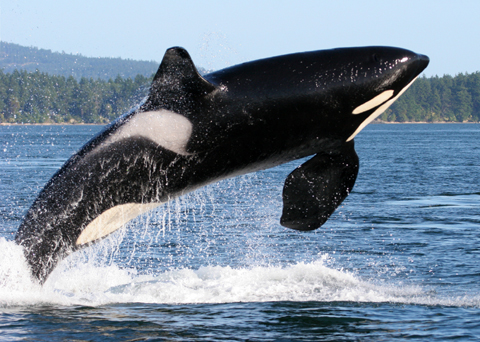 The killer whale is an iconic Canadian species that instils in many of us a sense of majestic wonder. However, these mammals are under serious pressure, from the quality of water they reside in to the impacts of climate change. It's no wonder that the killer whale is a species at risk.
Chinook salmon constitute a major component of the killer whale's diet. But as west coast Chinook salmon stocks dropped in the 1990s, so did killer whale populations. Overfishing, dam construction and other habitat altering activities have threatened salmon populations for years with killer whales feeling the brunt of this decline. Now climate change is another issue that's compounding problems for the killer whale.
Pacific salmon live in cool ocean waters and, as they warm due to climate change, these salmon will be forced to seek habitat elsewhere. Climate change may also modify the acidity of seawater as it absorbs carbon dioxide and alters the water flow in rivers and streams, potentially impacting Chinook runs. Without their main food source and with changes to their water composition, the future for the killer whale is far from secure.
Pollution is also impacting killer whales. As we continue to dump toxic pollutants down our drains and into our water systems fish, and other aquatic inhabitants are becoming contaminated. PCBs, pesticides, dioxins and fire retardants help to make up this toxic pool of pollutants. Significant concentrations of these toxic chemicals in their bodies are impacting killer whales' endocrine systems, reproduction and immunity.
At the top of their food chain, killer whales are excellent indicators of the health of our environment. Depending on the population, killer whales found in Canada's Pacific Ocean are federally listed as Special Concern, Threatened or Endangered, an indication that our aquatic ecosystem is not faring well at all.
It is because of factors such as these that CWF has decided to make species at risk, water and climate change our top three priorities. By focusing on these three issues, we hope to make a real difference, with your help, to Canada's wildlife and the places they call home.