By Sarah Coulber
Native Sunflowers | All photos: Sarah Coulber, CWF
Clean water is critical to our wild spaces. So it's important to practice smart water use in our gardens. Help the environment — and your wallet — with these tips:
Choose the right plants
Some plants thrive with minimal water. Use regionally native plants or non-invasive, drought-tolerant plants and place them in spots that suit their light, water and soil needs.
Give the lawn a break
Your lawn may go brown during heat waves, but this usually means it's dormant, not dead. If you must supplement rainfall, water deeply and less often, and keep your grass blades higher, such as seven centimetres or more, when you mow. Both actions encourage deep roots, which strengthen and support the plant. Also, consider minimizing lawn areas where feasible. And for those dry spells, have a rain barrel to catch and store rainfall.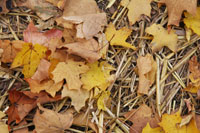 Leaf matter as mulch
Remember the mulch
Adding a layer of organic matter on top of your soil will reduce — even eliminate — your need to water your garden. Mulch provides great moisture retention without waterlogging plants and add nutrients to the soil. It also helps prevent run-off, suppresses weeds and maintains an even soil temperature for plant roots.
Be efficient
To minimize water waste, use a drip-irrigation system or water by hand at the base of your plants. This will prevent water loss due to evaporation and get water directly to plant roots. If your plants need more water, as some vegetables do, bury a plastic plant pot (with holes in it) in the soil next to your plant, then water into it. This will channel the water to the plant's roots.
More Tips from Wild About Gardening
Amend the Soil
Add compost to your soil. This organic matter can break up clay soil and bind sandy soil, helping it to absorb water when it rains and release water during dry spells. Compost also helps to nourish the plant in a natural way. The healthier the plant, the more easily it can tolerate weather conditions and resist, and even deter, pests.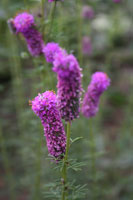 Purple prairie clover
Planting
When you first put a plant in the garden, you need to water it until it has fully adjusted to its new spot. Water the hole before placing the plant in it, and water as needed for the first season or two. It's best to water deeply (give the plant lots of water in one go) to encourage the plant's roots to grow deep into the soil. Watch the rain fall and water accordingly. Deep roots are protected from the heat of the sun, get nutrients from deep in the earth and are less dependent on your watering services.
When planting, pay attention to the slope of the ground. A level garden is best, but you can also build up the soil slightly around the edges to help catch water when it rains.
Here are some Wild About Gardening links with information to get you started gardening for wildlife:
Copyright Notice
© Copyright Canadian Wildlife Federation
All rights reserved. Web site content may be electronically copied or printed for classroom, personal and non-commercial use. All other users must receive written permission.