By Stacey Scott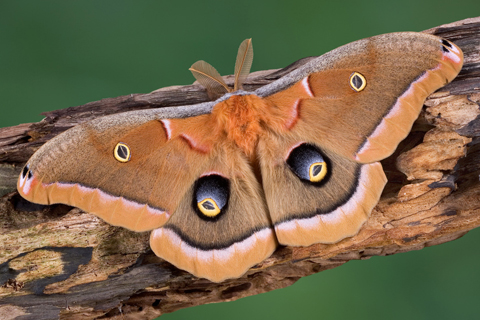 Photo: © Cathy Keifer - Fotolia.com
Every Halloween, troops of tykes make their way door to door in their most terrifying costumes, shouting, "Trick or treat!" in hopes of loading up on candy. But it seems tricks aren't just for kids after all. Many wild creatures don spooky disguises, too — but for some critters, trickery is their main defence against becoming a treat.
Stare Scare
Widespread throughout North America, the Polyphemus moth is one of Canada's largest moths. Bearing a unique eye-like pattern on each of its hind wings, the moth was fittingly named after the cyclops Polyphemus, the one-eyed giant in Greek mythology. Its surprise patterns distract potential predators, giving the moth enough time to fly away.
Death-Defying Doppelganger
Since its larvae and caterpillars survive on milkweed, the monarch butterfly (Danaus plexippus) is toxic to predators, who have learned to leave these orange creatures alone. Over time, the viceroy butterfly (Limenitis archippus) has established a unique relationship with the monarch by replicating its colour patterns. With a wingspan of 70 to 75 millimetres and a black crosswise stripe across the bottom portion of its wings, the viceroy is almost indistinguishable from the monarch. Other than its slightly smaller in size, it is hard to tell the two species apart. As a result, predators avoid the viceroy, too.
White as a Ghost
The snowshoe hare (Lepus americanus) is a chameleon, blending in to its environment to fool predators like the lynx, coyote and great-horned owl. Prompted by the seasonal changes in day length, the hare alternates its coat colour twice a year — from grey-brown in summer to almost pure white in midwinter. While their disguise might fool the occasional coyote looking for a snack, it doesn't help against logging, fire, habitat conversion or climate change, which have greatly affected and altered the distribution of the snowshoe hare and the quality of its forested habitats.
Avian Alarm
With its long, stout bill, elongated legs and distinctive plumage, the killdeer has adapted well to life on land. This shoreline bird bears broad, dark bands on its breast and alternating white and dark bands on its head – a dizzying pattern that makes potential predators take a second look, particularly on ploughed fields and gravelly shores. Feathers aren't these swift birds' only defence mechanism; they also lay eggs that blend right into their nesting terrain of earth, pebbles or stones.
Twiggy Trickster
The agile northern walking stick is the only species of its kind in Canada and can be found deep in the woods of southern Ontario and Québec. These insects have the amazing ability to guard themselves against predatory birds by resembling slender twigs. To make the most out of its twig-like appearance, the northern walking stick can straighten out its antennae and front legs and stay motionless for long periods of time.