November 13, 2011
By Stephanie Poff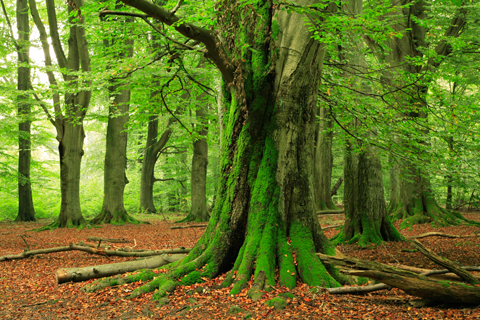 Just why are old trees so important? If not for their towering grandeur or centuries of secrets buried beneath their bark, old trees provide shelter and balance to habitat, wildlife and the climate.
Storing and Saving
Actually, old trees and old-growth forests have (for centuries) removed and stored an incredible amount of carbon dioxide from the atmosphere. Carbon dioxide is essentially 'breathed' into trees and the older they are, the more that is stored in their live woody tissues. Old-growth forests serve as a global carbon dioxide sink, which means that these old trees are doing a great job of 'inhaling carbon' much like we inhale oxygen – except the tree keeps the carbon locked up. However, when these trees die they release all that carbon back into the atmosphere and when they're harvested they no longer sequester additional carbon. You might have heard a little topic being discussed these days called "Climate Change;" well carbon is a big deal when we talk about the Earth's projected climate progressions. Where carbon goes is an incredibly important component. A common argument however, is that younger, fast growing forests could do a better job at taking more carbon away than would these old trees whose "only use" today is storing the carbon. Wait a second: their "only use" is carbon storage? No way!
Shelter and Solace
Let's look into this a little further. Studies from the University of British Columbia cite that old trees provide homes to thousands of species of birds and mammals. Although that doesn't seem like groundbreaking information, I'm certain most people could tell you that trees provide habitat. Owls, songbirds, squirrels, opossums, insects, snakes, amphibians and more all use tree cavities. But it is relevant to know just how vital these trees are to wildlife so they aren't all harvested. For example, many species at risk like the spotted owl, chimney swift, grey rat snake, marbled murrelet and cerulean warbler need older trees to survive. Some animals can't carve out their own holes; they utilize natural damages, decaying matter in old trees to provide shelter. In North America the damage from woodpeckers makes up almost 99 per cent of tree cavities, whereas in South America, Europe, Asia and Australia studies showed that 75 per cent of the holes used by birds and mammals were created by damage and decay. If that's not enough for some of you reading this article, you might be wondering what old tree's can do in the future, besides storing and sheltering?
Growing and giving
Researchers at McGill University's Department of Biology have shown that large, ancient trees may be very important in helping forests continue to grow. The study by Dr. Zoe Lindo and Jonathan Whitely found that the interaction between old trees, mosses and a type of bacteria that forms on the mosses – called cyanobacteria - contribute to the dynamics of the forest that sustain long-term productivity. Like a domino effect, the old trees provide habitat for the mosses, mosses provide habitat for bacteria, and the cyanobacteria takes nitrogen from the atmosphere and makes it available to plants. Up until this study, mosses had only been studied on forest floors, but the McGill study showed that mosses found on tree tops were more abundant and held twice as much nitrogen as those on the forest floor. And since the nitrogen is dependent on moss, the trees large enough and old enough to start accumulating moss don't begin this accumulation until they are 100 years old. It is a tremendous accomplishment not only for these biologists, but for the sake of conserving our forests. Old trees are simply superheroes, if you ask me.