By Stephanie Bonner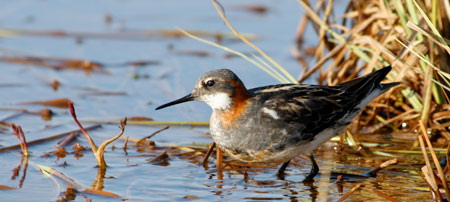 This month's Take Five is the first of a two-part feature about wildlife and where they go during Canadian winters. Some species migrate to different places while others tough it out in the cold! This issue, we'll be looking at five of Canada's more colourful migratory species.
Why does migration occur? Migration is the seasonal movement of a population of animals from one area to another. It is usually a response to changes in temperature, food supply or the amount of daylight available.
Red Phalarope – The red phalarope (above) lives in northern Canada and enjoys a habitat of grass, sedge and moss tundra combined with shallow lakes and freshwater ponds. During migration, this bird flies to the open sea, where it buoyantly swims, occasionally coming in closer to shore or on land.

Orange-Crowned Warbler – The orange-crowned warbler regularly enjoys a habitat of tall shrubbery, deciduous woods, mixed woods and brushy thickets. It can be found across Canada in almost every province, but during our winter months, this warbler will fly from the southern United States south to Florida and Guatemala.

Yellowbellied Sap Sucker –This species prefers deciduous forests, particularly when poplars and birches are present. Found widely across Canada, the yellowbellied sap sucker spends its winter months from southwestern and central United States south to Florida, western Panama and the Gulf Coast. Small numbers of this population go as far as the West Indies!

Eastern Bluebird – The eastern bluebird can be found in provinces east of Alberta and enjoys a habitat of open and sparse woods. It can also be found in habitats of old standing trees from burnt lands, orchards, and farmland. During the cold winter months, without the availability of a food source, the bluebird sets a general course south for the south-central United States.

Purple Martin – The purple martin can be found across southern Canada all the way to central Mexico. It enjoys uninhabited areas, open parts of woodland, hollow marshes and open terrain. During our winter months the purple martin spends its winters way down south, all the way to South America.
Next month in Take Five: part two of To Migrate or Not to Migrate? featuring non-migratory species!