By Stephanie Bonner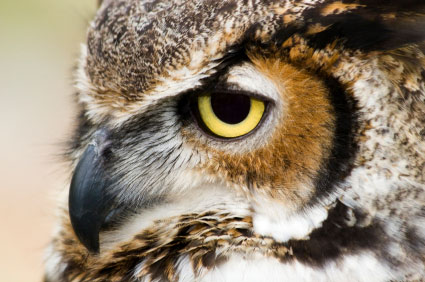 This month's Take Five is the second part of a two month feature on wildlife and where they go during Canadian winters. Some species migrate to different places while others tough it out where they are! For December, we're looking at some cool facts about the species that stick around.
The non-migrating species we're highlighting are able to survive winters in Canada because of adequate food sources and shelter. These species also benefit from overwintering in Canada because come spring, they are able to nest earlier which helps them to be more successful in raising their young.
Red-breasted Nuthatch — The red-breasted nuthatch (Sitta canadensis) (right) is a permanent resident across most parts of Canada. You'll be able to tell the red-breasted nuthatch apart from other birds because it climbs around trees upside down! By searching the bark upside down the nuthatch is able to claim tiny organisms that have been overlooked by all the upright searching birds.
Gray Jay — The gray jay (Perisoreus canadensis) resides and breeds in Canada as far north as the tree line. It enjoys a home of mixed wood forests and coniferous trees, forest openings and even bogs. When the Gray Jay (like all Jays) lands on the ground it does not walk, it hops.
Black-capped Chickadee — As is the case with the other non-migratory species, the black-capped chickadee (Poecile atricapilla) can be found permanently living throughout most regions in Canada. This chickadee enjoys woodlands, tall thickets, woodlots and wood patches. You might see this chickadee around your property by ornamental shrubbery and trees.
Great Horned Owl — The great horned owl (Bubo virginianus) (above) is a resident of both North and South America. This owl's Canadian home spans all across the country to the northern most tree line. It does not migrate and is likely to be a year-round resident, with limited movement between regions. The great horned owl won't be spending much time constructing a nest. If you do see one, they will most likely be living in an older nest or perhaps a hollow tree.
Spruce Grouse — The spruce grouse (Falcipennis canadensis) is also a permanent resident all across Canada in coniferous forests. They enjoy needles and buds of coniferous trees such as pine and spruce in the winter, and in summer they enjoy berries. Unfortunately, modern forest clear-cutting methods and single species replanting can dramatically reduce local populations and can eliminate the spruce grouse entirely from any particular area.
Next month in Take Five: The Five Acts of Green!