By Stephanie Bonner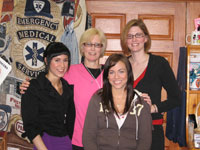 Jennifer Courvoisier, Debra Poss, Alyssa DiCamillo and Jessica Cameron
"If you don't take a bag, we'll give the cost of the bag to the Canadian Wildlife Federation" — reads the sign at the cash register of Naturally You / Uniform Store in Barrie, Ontario.
Inspired by another retailer in the spring of last year, Deb Poss made the decision to make a donation to the Canadian Wildlife Federation for customers that chose the environmentally friendly option at her Barrie store. "A store was making a donation to charity if their customers brought their own shopping bags, and I liked the idea," says Poss, who decided to try it out, making a slight variation to the concept. "I liked the idea, but I realized that bringing your own bag wasn't the important thing, it was not taking the bags that really mattered."
Poss has been the sole proprietor of Naturally You /Uniform store since 1993. The store itself is two businesses in one; Naturally You provides specialized services for women with cancer by selling wigs, hats and breast prosthetics, while the Uniform Store sells apparel to medical professionals.
Her decision to support CWF with her 'Bag Campaign' began in the summer of 2007 for a couple of reasons. "CWF works to help wildlife through its focus on the environment and habitat. By customers saving these bags from being wasted, we're trying to do our part to help save the environment for wildlife too," explains Poss.
Since last summer, her initiative has raised over $450. "What's great for us is seeing people make the decision not to take a bag. We're even convincing customers who are buying clean white lab coats that they don't need a bag."