By April Overall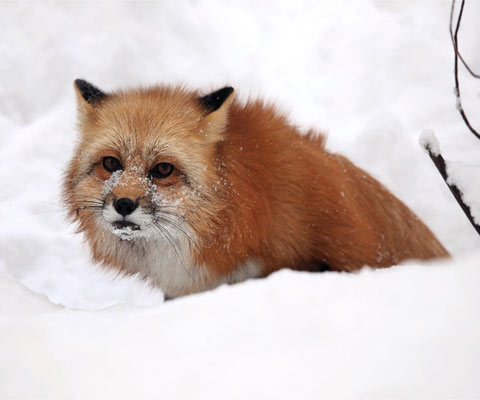 Photo by: Megan Lorenz, Etobicoke ON
Do you remember playing hot potato as a kid? Standing in a circle, a potato is tossed back and forth as the music blares and when it stops; whoever's stuck with the hot potato is out of the game. Remember how desperately you tried to avoid that fate? Well with rising temperatures due to climate change, wildlife is playing a pretty similar game, trying their darndest not to end up burned by climate change. Which animals will be left standing, sans hot potato? We're betting on these guys.

The Early Bird Catches the Worm
With spring popping up 1.7 days earlier than it did in the first half of the 20th century, some wildlife are taking cues from Mother Nature by breeding and giving birth to their young earlier. By getting an earlier start, species are producing offspring that'll stand a better chance for survival and might even pass along the genetic info to wake up and get moving earlier, enabling the entire population to adapt to climate change.
Birds across the globe are feathering their nests earlier. One-third of U.K. birds – from songbirds to waterfowl – are laying eggs 8.8 days earlier than usual. In North America, tree swallows are laying eggs nine days earlier than they did 40 years ago; while the common murre is breeding up to 24 days earlier than just 10 years ago. But an earlier start isn't just for the birds. North American Fowler toads are breeding six days earlier than they had a decade ago, Canadian red squirrels are cozying up 18 days earlier and loggerhead seaturtles are laying eggs 10 days earlier.
Movin' On Up
Look up, waaaaay up, and you just might find critters you're used to seeing in more southern climes. Many species are adapting to climate change by heading north in search of cooler temperatures.
Over the last century, the Edith checkerspot butterfly has expanded its range 92 kilometres north of its western U.S. range. And they're not alone. Across North America and Europe, more than 35 butterfly species have shifted their range (by up to 200 km!) in favour of northern climes.
How far will they go? Well, formerly inhospitable regions are lookin' good for some species. The red fox has started spreading into Arctic fox territory as it heads north. And coho salmon, which are used to temperate waters, have started expanding northward; in one case, 2,000 km north of the species' usual range.
But all this shifting about is wrought with consequences. Introducing new species to some territories could actually muck up the ecosystem. A 2008 study has found that if Antarctic waters warm up by just a few degrees, sharks might swim on in and stay a while, something they haven't done for about ooohh…40 million years! If they do enter Antarctic waters, and a new uber predator is introduced to the ocean habitats surrounding the continent, it could turn the ecosystem on its head.
Ring the Alarm
Hunkering down for the winter allows animals to conserve energy when food is hard to find; it slows down their breathing and even lowers their body temperature and metabolic rate. So how do mammals know when to hibernate? It's in their blood! When the temperatures begin to dip, leptin – a protein hormone – tells the body when it's hungry and when to take a hiatus from noshing.
But with temperatures on the rise, due to climate change, many hibernating animals are getting a lower dose of leptin and waking up with their tummies rumbling. Yellow-bellied marmots (aka groundhogs), which usually pop their heads out of their holes in mid-May, have started emerging from their winter abodes approximately a month earlier than they did 30 years ago! But waking up is hard to do. It takes these critters quite a bit of energy, revving up their metabolic rate enough that they use up all the fat they've stored up during the winter. And while they might be wide awake, who's to say the plants they eat are blooming and ready to be eaten? More and more wildlife are getting out of sync with one another, causing big problems in the grand scheme of things.
Moreover, some former hibernators have snubbed the practice altogether. Researchers have found that female brown bears with young cubs have skipped their winter snooze entirely in recent winters since warmer temperatures and less snow has made it possible to find food staples like nuts and berries year-round.
Gender Bender
Climate change is toying with more than just the temperature. For many reptiles, temperature is the deciding factor for gender. Painted turtles, for instance, rely on July's steady temperatures to keep their offspring on an even female to male ratio. An increase in that temperature, even by two to four degrees, could ramp up the number of females produced. Likewise, hawksbill turtles have been producing more females than males in recent years due to rising temperatures. When the sexes are swayed either way, species have a tough time reproducing thereby hindering future generations.
Oh, Behave!
A new study shows that a warming climate may lead some fish to change their behaviour, putting them in hot water (pardon the pun). Studying personality traits in damselfish, a fish ecologist and evolutionary biologist at the University of New South Wales found that spiking the water temperature by three degrees caused fish to act up. They became six times more active, four times more aggressive and four times bolder. The reason? Likely a boost in metabolism. Since fish are cold-blooded, turning up the water's temperature also warms up their blood resulting in a busy body. But with a rev in body temperature comes a rev in energy and to keep that up they need to eat more. To nab snacks, they need to be more bold and aggressive, making them more vulnerable to predators. It's a vicious circle, isn't it?