By April Overall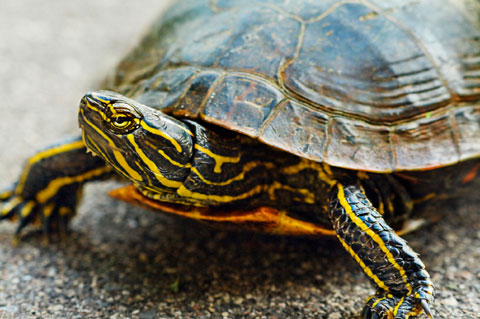 These slow moving fellas might not be part of the Chinese Zodiac, but conservationists the world over have agreed that turtles need some attention too. The Partners in Amphibian and Reptile Conservation (PARC) has designated 2011 as the Year of the Turtle. It's hard to imagine that a species that's been around for 220 million years, could be at risk of being wiped off the planet. According to the International Union for the Conservation of Nature (IUCN), 47.6 per cent of turtle species are considered threatened. But did you know their battle for survival is taking place in your own backyard? Approximately 20 per cent of turtle species call North America home. It's up to us to keep our turtles safe and sound – in our lakes, oceans and backyards.
Without turtles, the order of the natural world would be thrown out of whack. They play a crucial role in the food chain. On land and in freshwater, turtles help to keep marshes and wetlands healthy as a favourite snack for predators in the ecosystem. In the ocean, sea turtles keep sea grass healthy by giving it regular trims – it's tasty stuff, didn't you know? And many species of fish like shellfish and crustaceans use sea grass as a breeding ground – thanks of course to the sea turtles that keep this habitat healthy. Moreover, who wants to imagine a world without turtles? They're a unique creature in this world – having evolved very little since prehistoric ages. They've been through it all and came out on top – even outliving the dinosaurs!
But turtles have a lot going against them these days. To start, they're slow growing creatures. It can take a turtle between 10 to 15 years before they're ready to have offspring. As a result, populations rely on adults. If the number of adult members in a population begins to drop, it could have a dire impact on the population as a whole. And with habitat loss, exploitation, climate change, invasive species, development and fishing gear entanglement threatening their existence, turtles are having a rough time reaching 10-years-old, let alone 15.
Luckily they've got the Canadian Wildlife Federation in their corner. Our Endangered Species Program has supported a number of research projects working to make a bright future for Canada's turtles. Species like the Leatherback Seaturtle, Western Painted Turtle, Blandings Turtle, Spiny Soft Shell Turtle, Northern Map Turtle and Snapping Turtle have received support from CWF. From researching breeding, reintroducing turtles to the wild, increasing nesting success, researching habitat needs, tracking various species as well as reducing bycatch, we're hard at work creating a promising future for Canada's turtle species.
Get Off My Turf!
Everybody knows that turtles are slow moving critters. As a result, many turtles have small distributions. So when their habitat changes from development or human alteration, it's difficult for these creatures to move to a new habitat. Turtles that use one area of habitat to feed, another to mate and another still to nest have an incredibly difficult time surviving when one or more of these areas are altered.
My Name is NOT Myrtle
Turtles are often plucked from their habitat by the food, pet and medicinal industries. Approximately 300 million turtles are consumed by the food industry in Asia every year. As a result, most Asian turtles are on the brink of extinction. Think North America's any better? Only marginally. In the U.S. alone, between 12 and 20 million turtles are shipped overseas every year. While many of these come from turtle farms, others are caught from the wild.
Steer Clear!
You know that dream you keep having where you're running away from someone and you just can't run fast enough to get away? Imagine living that. Slow-moving turtles are no match for the speed of cars or agricultural machinery. Moreover, fresh water and sea turtles are at risk of getting caught up in fishing nets and drowning.
Get Your Own Habitat!
When invasive species are introduced to Canadian soil and waters, they can easily take over habitat. Moreover, they sometimes carry with them diseases that can kill off native turtles. As a result of their new competition, native turtle species are forced to fight for food and turf.
Is it Hot in Here, Or is it Just Me?
Climate change is a significant threat to turtles by altering temperatures and rainfall patterns which in turn makes it difficult for them to find the necessities of life: food, water and shelter. Moreover, climate change has actually succeeded in altering the sex of hatchlings. If temperatures sky rocket or dip too much, it can result in only one sex hatched. That may bode just find for a couple of weeks in June but after months on end of a similar trend, reproduction would drop dramatically.