By April Overall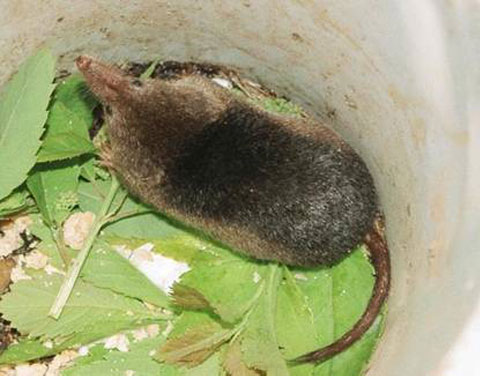 Photo by: Kim Dawe
The Canadian Wildlife Foundation is granting $4,000 to Dr. Don Stewart, professor of biology at Acadia University to gather data on the habitat preferences of two shrew species at risk in Nova Scotia: the North American water shrew and the Maritime shrew. The International Union for Conservation of Nature (IUCN) has listed both small mammals as of least concern on the IUCN Red List.

Maritime Shrew
On a global scale, the maritime shrew (Sorex maritimensis) has a wide range of over 20,000 km². However, its population is decreasing and this small mammal is only found in two provinces in Canada: Nova Scotia and New Brunswick. It's rare to spot a maritime shrew, but it's most often found in marshes and wet meadows. So what's the worry? In the warmer months, its habitat is vulnerable to flooding; and when the temperature dips but not enough to produce snow, the shrew is exposed to chilly weather since it usually ducks under the snow for cover.
North American Water Shrew
The North American water shrew's (Sorex palustris) global population is currently stable however it is only found in Nova Scotia and the boreal and mountainous regions of Labrador. It scouts out habitats that are damp, cool and shaded, preferring to hang out around bodies of water like lakes, ponds, bogs and marshes. There they chow down on aquatic invertebrates and small vertebrates. Since they're dependent on aquatic habitats, agriculture, logging, road building, surface mining, pollution and drainage of these areas threaten the shrew.
How Stewart's Research Fits In
Since both shrews are reliant on aquatic habitats, Dr. Stewart and his team are working to discover how forestry and farming practices on water affect the shrews in Nova Scotia. His team will set up and monitor hundreds of live traps. But rest assured, these traps don't hold the shrews – they're simply feeding stations where shrews can feast. The team then visit the traps and collect the shrews' droppings. The scat is then sent over to Acadia University for DNA identification. With this information, researchers will be able to decipher the maritime shrew and North American water shrew's preferred habitat.