September 1, 2011
By Annie Langois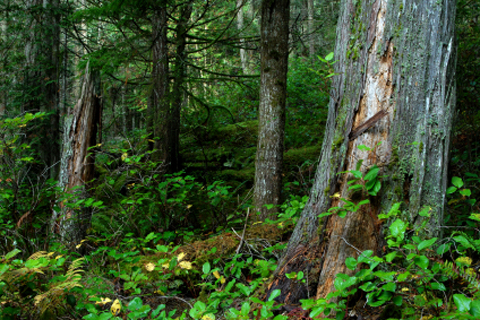 When you think about rainforests, you might picture lush jungles full of exotic wildlife, like monkeys and parrots. While this is true of tropical rainforests found in warmer climates, we have rainforests right here at home. British Columbia is home to about 25 per cent of the world's coastal temperate rainforests. This ecosystem occurs on west-facing coastal mountains along the Pacific coast. Another patch of temperate rainforest in North American is located in the Appalachian Mountains, in the United States. Elsewhere in the world, they are found in South America, Europe, Asia, Australia and New Zealand.
So how does this unique ecosystem work? In North America, rainforests are defined as areas with annual precipitation of 200 to 400 centimetres, an annual temperature somewhere between 4oC and 12oC, a closed canopy of trees that hides most of the sky and a spot where trees form most of the vegetation. Warm oceanic currents create the Pacific Coast's distinctive climate. And since very little sunlight reaches the ground due to its closed canopy, there's not a lot of undergrowth. Instead, many of the plants found in the coastal rainforest grow directly on trees! Trees living in the rainforest have adapted to this lack of light by producing seedlings that have the ability to grow in the shade or natural openings. Also, being a very humid environment, most tree species in the rainforest don't require wildfire to regenerate, as some of the coniferous trees in our forests do. The forest is kept humid during the summer months through the trees themselves which extract water from the foggy air, turn into condensation on the trees' needles and leaves and drip to the ground (known as fog drips).
Rainforests are some of the most productive ecosystems on Earth. They're home to an astounding number of the world's living organisms. British Columbia's coastal rainforest is home to many species of mosses, ferns and coniferous trees, like the sitka spruce and the western red cedar. The wild Pacific salmon, the spirit bear (a white form of black bear); the marbled murrelet, the wolf and the bald eagle are some of the wildlife species that call this forest home.
In order for this ecosystem to function properly and sustain this staggering number of species, every component of the forest has a role, from fallen logs on the ground that house countless invertebrates to the high branches of trees where a great variety of birds thrive. Rainforests are responsible for almost one-third of the total oxygen production through its high photosynthesis rate, making them indispensable to maintain the composition of our atmosphere. Unfortunately, the main threat to our own coastal rainforests is deforestation.
To learn more about this fascinating (and very green!) ecosystem, and what you can do to help, watch our new HWW rainforest video launching during National Wildlife Week, April 10 to 16 2011!