By Todd Boland

When most people think of alpine plants, visions of the majestic Rockies, Alps, Andes or Himalayas come to mind. But what about alpines that naturally grow at sea level? While these plants do not fit the typical definition of alpine, they are well represented along coastal areas of Newfoundland's Great Northern Peninsula.
From a gardener's perspective, St. John's, Newfoundland, does not have the greatest climate. It is windy year-round; we have the wettest climate in eastern North America, and what little soil we have is highly acidic and our growing season is quite short. To top this off, we are cursed (from a gardener's point of view) with the Labrador Current, an ocean current that funnels cold Arctic waters (including Arctic ice) to the coast of Newfoundland. Spring is postponed until May, while frost in June is almost the norm. Summer temperatures in St. John's are relatively cool, averaging about 20°C. Snow arrives in December and remains into April, with average winter temperatures of about –2°C. Despite our long winters, they are relatively mild. We are located in Canadian Hardiness Zone 5b.
In northern Newfoundland, where our sea-level alpines naturally occur, the climate is even harsher. There, snow arrives in November and remains into May, while the ocean is ice-covered into May. Winter temperatures may plunge to -25°C with howling 80-kilometre-per-hour winds. Summer temperatures rarely rise above 20°C. Keeping these factors in mind, you can understand how the alpines in this region are right at home at sea-level.
Several of our native alpines do grow in more typical mountainous habitats. The west and south coasts of Newfoundland contain mountains that reach 600 to 800 MASL (metres above sea level). These are the northernmost extension of the Appalachian Mountain chain. These mountains (really glorified hills!) are composed of granite and sandstone; thus they are acidic in nature. Here grow Loiseleuria procumbens, Diapensia lapponica, the super-dwarf Vaccinium vitis-idaea var. minus, the delicate pink-fruited Empetrum eamesii, Vaccinium uliginosum with its glaucous-blue foliage and Arctous alpina, whose scarlet fall colour is unsurpassed. In late-lying snowbed areas you may encounter the exquisite Phyllodoce caerulea, Harrimanella hypnoides, Salix uva-ursi and Sibbaldia procumbens. However, our greatest diversity of alpines grow along the limestone coastal barrens of the Great Northern Peninsula.
Superficially, the limestone barrens of Newfoundland resemble the Burren in Ireland, even though the flora is quite different. The landscape is virtually devoid of trees and at first glance appears as an expanse of broken, jumbled rock.
But close inspection of this haunting landscape will reveal a surprising assortment of alpine gems. The flowering season begins in early June, peaks in mid-July and extends into early September.
Our limestone barren alpines grow in three main microhabitats: rock cracks, natural limestone scree and peaty-sandy accumulations at the base of limestone cliffs. The toughest alpines grow among the narrow limestone cracks in what appear to be natural crevice gardens. Here you will find such plants as Rhodiola rosea, Draba incana, D. glabella, Lesquerella purshii, several Oxytropis and Astragalus species, Silene acaulis, Salix reticulata and S. glauca. Here too grow three of our rare endemic alpines – Braya longii, B. fernaldii and Salix jejuna.
Most of the limestone barrens are a combination of various-sized limestone gravel, in essence a natural limestone scree. The diversity of plants is quite amazing. The crevice dwellers noted above are at home here. Other choice species include Saxifraga aizoides, S. paniculata var. labradorica, S. oppositifolia, S. caespitosa, Armeria maritima var. labradorica, Campanula rotundifolia, Primula laurentiana, P. mistassinica, P. egaliksensis, Gentianella nesophila, Solidago multiradiata, S. hispida, Packera pauciflora, Sagina nodosa, Cerastium alpinum ssp. lanatum, Lychnis alpina, Minuartia rubella, Tanacetum huronense var. terrae-novae, several Antennaria species...and the list goes on! These limestone gravels are home to several Arctic willows such as Salix reticulata, S. glauca, S. arctophylla, S. arctica, S. weigandii, S. cordata, S. vestita and dwarf forms of the silvery-foliaged S. candida. Other woodies in the region are Potentilla fruticosa var. tenuifolia, Shepherdia canadensis var. prostrata, Juniperus communis var. saxatilis, Dryas integrifolia, Betula pumila and Sibbaldiopsis tridentata. While rhododendrons are generally associated with acidic soils, the delicate R. lapponicum is perfectly at home here. In certain areas grow drifts of the exquisite dwarf yellow lady's-slipper, Cypripedium parviflorum var. planipetalum, but other orchids, including Pseudorchis albida, Amerorchis rotundifolia, Platanthera hookeri, P. huronense, P. aquilonis, P. obtusata var. collectanea and Coeloglossum viride, abound here too.
Along much of the western coastline of the Great Northern Peninsula, the limestone barrens end abruptly as low cliffs, generally three to six metres in height, although this drop may exceed 30 metres in the Cape Norman region. At the base of the cliffs accumulate a mix of fine limestone gravel and peat. The shelter provided by the cliffs is a Shangri-la for many alpines and results in a kaleidoscope of colour throughout the summer. Pink, purple and blue hues are provided by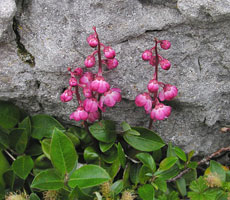 Pyrola asarifolia, Rubus acaulis, Viola palustris, Iris hookeri, Bartsia alpina, Pinguicula vulgaris and Gentianella propinqua. White-flowered alpines include Anemone parviflora, Parnassia palustris, P. glauca, Polygonum viviparum, Cornus suecica, Stellaria longipes, Tofieldia glutinosa and Erigeron hyssopifolius. Yellow-flowered Potentilla neumanniana, P. nivea, Alchemilla minor, Arnica lonchophylla and several dwarf Solidago complete the picture. The cracks among the limestone cliffs are home to several charming ferns: Asplenium viride, Cystopteris fragilis, Woodisa alpina, W. ilvensis, W. glabella and Polystichum lonchitis.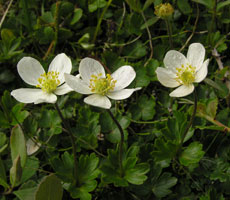 How well can these native Newfoundland alpines be cultivated? As it happens, I work as a research horticulturist at the Memorial University Botanical Garden in St. John's. One of the major components of our collection is our native Arctic-alpines.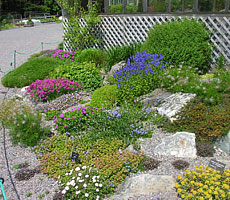 We cultivate them in several areas of the garden including our standard rock garden, limestone scree, alpine house and especially our crevice garden. Our plants are grown from wild-collected seed, cuttings and rescued plants from construction sites. While the sea-level alpine regions of Newfoundland are easily accessible by car, they are located some 10 hours from St. John's by car, the main tourist destination within the province. Visitors certainly appreciate being able to view these native alpines in our botanical garden, sparing them a long, arduous drive.
I have often been amazed at how robust some native species become once they are moved to a more amenable location. In the wild, Iris hookeri, Packera pauciflorus, Solidago multiradiata and Rhodiola rosea are usually under 15 centimetres, but in cultivation, both have exceeded 30 centimetres. I expected prostrate forms of Potentilla fruticosa and Shepherdia canadensis to become more upright; yet they appear to be genetically prostrate, retaining their flat habit after 10 years in cultivation.
As a rule, we have had less luck growing taprooted types. Most fibrous-rooted alpines grow quite easily in cultivation. Our rock garden soil media is equal parts topsoil, peat, sand and one-centimetre chipstone. All but the true scree species do fine in this mix. We increase the chipstone component for those species that demand extra drainage. Those species that have greater drainage requirements seem to do best under alpine house conditions. The difficult-to-cultivate Diapensia lapponica has yet to survive in the open garden, but we have one five-year-old that is, so far, thriving in the alpine house. Loiseleuria procumbens is also more at home in the alpine house than in the open. The unfurling leaves of Salix vestita
are covered in silky hairs that are quickly lost when the plant is grown outdoors. In the alpine house, they retain these hairs for most of the season, adding to the charm of this dwarf, mounding willow. Certain species, like our native Oxytropis and Astragalus, are reticent to grow in areas outside their natural range. Antennaria species and Packera pauciflorus, on the other hand, become almost weedy in the open rockery and need judicious thinning to keep them in bounds.
If you have the chance to pay an extended visit to Newfoundland, I highly recommend a trip to the limestone barrens of our Great Northern Peninsula. If you can only take a short trip, then a visit to our botanical garden can give any alpine enthusiast a taste of what our local alpine flora has to offer.