By Stephanie Bonner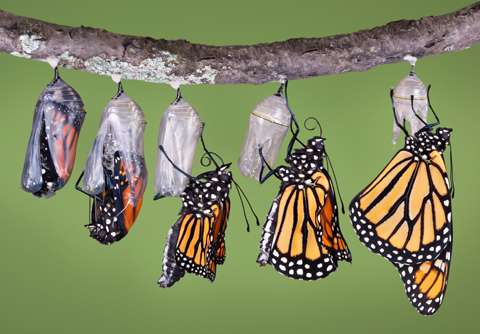 With its bold and bright orange wings speckled with white dots and lined in a thick black border, the monarch butterfly (Danaus plexippus) might just be the most recognizable butterfly in Canada. But do you know just how magnificent this creature really is? With an exhausting migration process, specific feeding needs and continual habitat degradation, the monarch continues to battle for space in a changing world.
Fly By
There are three populations of monarch butterflies in North America: western, central and eastern. The western group includes all monarchs found west of the Rocky Mountains to the Pacific coast, which overwinter along the coast of California in eucalyptus trees. The central population lives in the southern climes of Guatemala, El Salvador, Honduras, Belize, Nicaragua, Costa Rica, Panama and southern Mexico. This population makes only short seasonal migrations and is reproductive throughout the year. Finally, the largest population is the eastern monarch, which lives exclusively east of the Rocky Mountains. This group makes the longest migration from Canada all the way south to Mexico, arriving somewhere between early November and late December. This mass of butterflies will begin its return in March and early April. En route, females lay their eggs wherever milkweed plants are available, and the new generation finds its way back.
Milking It
Because monarchs feed exclusively on milkweed during the first stages of life, they'll only survive where these plants thrive. As the range of milkweed extends and adapts, so does the monarch's. The milkweed plant contains poisons called cardiac glycosides that do not affect the monarch larvae, but that they store in their bodies and carry with them. Predators that try to eat monarch larvae have a terrible time digesting it and thereafter relate the bad experience with the brightly coloured monarch larvae. This allows the monarch species to survive.
As the larvae transform into butterflies, it continues to feed on milkweeds, but expands its range to other native plants and wildflowers. The monarch seeks the nectar from these wildflowers to increase its strength and fat reserves for the long migration it will endure come fall.
Under Siege
As if the grueling trek to balmier climes and back wasn't enough for these winged wonders, environmental conditions and a loss of breeding habitat are threatening its survival. Between the clearing of deciduous forests in the eastern U.S. and southeastern Canada and the loss of habitat and agricultural development in the Great Plains, the monarch has been forced to shift eastward in the last century. The eastern monarch population has logging, human disturbance and predation to endure – particularly during its stay in Mexico. On the western front, monarch populations are driven out of their habitat due to real estate development along the Californian coast. And as they fly north in the spring, changing environmental conditions and loss of breeding habitat pose additional threats.
You to the Rescue
Don't sit by and watch this butterfly vanish from the Canadian landscape. You can make a difference to the marvelous monarch.
Do visit them. From late August to early October, the monarch visits Point Pelee National Park en route to balmier climates. The park's visitor centre offers public programs on monarch migration. Visit and help naturalists count the butterflies! Get a calendar of the monarch's activities.
Do grow a monarch-friendly garden. Due to an ever-changing Canadian landscape, butterflies benefit from feeding on a range of flowers. So plant open and deep flowers of red, blue or violet hues in your garden. Their favourites? Joe-pye weed, Liatris and milkweed. Learn more about growing a pollinator's paradise at the Wild About Gardening's website.
Don't use pesticides. Along with eliminating those pesky weeds, pesticides kill the milkweed monarch caterpillars desperately need to survive, as well as other beneficial wildflowers. While you're at it, buy organic and push the agriculture industry to stop using pesticides on crops.