By Sarah Jones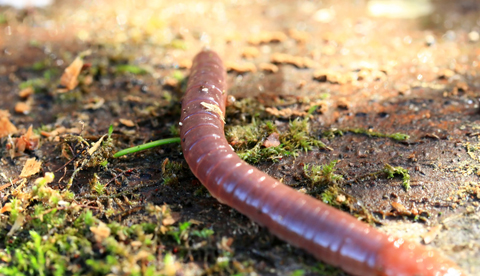 Photo: © LeChatMachine - Fotolia.com
Who's Working Overtime in Your Backyard?
From spiders to snakes, there are plenty of critters that give people the heebie-jeebies. But why the bad rap? You'd be surprised by how many creepy crawlies are actually beneficial to the environment and heroes in your own backyard.
Slithery Superstar
The western garter snake (Thamnophis elegans) is one of six species of garter snake that range from southern British Columbia to eastern Alberta to southwestern Saskatchewan. With their diverse cravings for slugs, worms, snails, leeches, tadpoles, frogs, other snakes, mice, some fish and on occasion small birds, these slithery creatures are beneficial in your garden as they keep snail, slug and rodent populations in check and prevent these pests from eating away at foliage.
Unfortunately, threats such as habitat loss are destroying the western garter snake's home, and pesticides are contaminating prey populations. Keep your slithery friends around by opting for natural ways to keep pests at bay, and leave a portion of your garden wild. Leave a pile of rocks in sunny areas for snakes a place to bask on and a log pile in cool damp areas for a hideaway. Giving them temperature options help these cold-blooded creatures keep their internal thermostat balanced.
Beetle Mania
The rove beetle takes care of the aphids, spider mites, maggots, flies, springtails and organic matter in your garden. This helper not only keeps other leaf-eating insects off your plants, but also helps break down organic matter, returning nutrients to your garden soil. The long, slender insect ranges in size from two to 22 millimetres, has a black or brown body and looks more like an earwig than a beetle. It also holds its tail up like a scorpion when it runs. To create a garden that rove beetles will gravitate towards, work at maintaining organic material in your soil. Mulch in the garden will add shelter and hiding places for them to live. But avoid tilling the soil too often, as this will damage their eggs. There are 55,000 species of rove beetle in Canada alone and, as only about half of these species have described to date, you may even be able to identify a new one!
Bat Brawn
Bats are the primary predator of night-flying insects such as moths, beetles and mosquitoes; they can catch hundreds of insects in just one hour. Not only do these little flying bug zappers eat the insects that bite humans, but they also eat a variety of insects that feed on plants. In fact, a healthy colony of bats can protect gardens and crops from pests such as cucumber beetles, moths, cutworms, corn earworms, leafhoppers and June beetles. But with human disturbances, habitat loss and pollution, many of the world's bats are considered threatened. Provide a safe haven neighbourhood for bats in your in your backyard by building a bat house.
Wiggly Worms
Earthworms break down organic matter, returning to the soil nutrients that have depleted through time and chemical use. But you've got to work to keep worms happy! Create a healthy living environment for the worms, otherwise they will leave in search of more attractive habitat. First thing? Toss the pesticides. Because when you add chemicals, like fertilizers or pesticides, to your garden, you kill beneficial microorganisms. Next step? Drop by your local garden centre and pick up worm castings for your garden to attract these wiggly friends. Worm castings are the nutrient rich, dirt-like substances produced by worms. Adding just a little to your garden will not only attract natural worms, but can increase plant germination by 50 per cent.
The Itsy Bitsy Spider
The nursery web spider gets its name from the tent-like protective nursery web it constructs around its egg sacs, which it guards from predators until the eggs hatch. Having these yellow-brown arachnids, ranging from 10 to 15 millimetres in size, around your house keeps insect populations under control. Found primarily in Québec, the nursery web spider seeks out wooded areas for shelter during harsh weather. Lure these spiders to your property by leaving potential web locations undisturbed, and use natural pest and disease controls.