By April Overall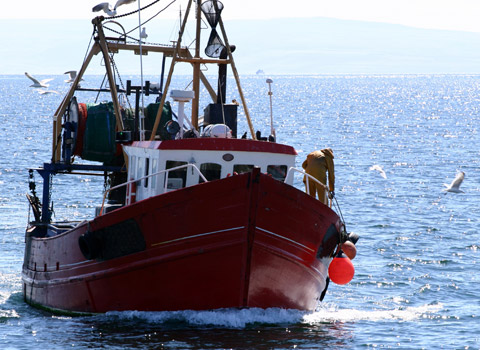 With incredible quantities, and no lesse varietie of kindes of fish in the sea and fresh waters, as Trouts, Salmons and...also Cod, which alone draweth many nations thither, and is become the most famous fishing of the world.
- Richard Hayes, 1583, a captain for Sir Humphrey Gilbert who declared Newfoundland for England
When John Cabot sailed along the coast of Newfoundland in 1497, Atlantic cod (Gadus morhua) were so abundant they could be scooped up in buckets and hoisted aboard. Soon after, English, French, Spanish, Portuguese and Basque fishermen began to fish in the area, and by 1610, cod fishing prompted one of the first English settlements in Canada. Atlantic cod came to drive the economy in Newfoundland and Labrador, with as many as 2.5 billion spawning in the 1960s. However, Canadians were simultaneously catching enormous amounts of cod – peaking at 810,000 tonnes in 1968. As a result, their stocks plummeted, and the Atlantic cod went from a species of plenty to a species at risk.
All in the Family
The Committee on the Status of Endangered Wildlife in Canada (COSEWIC) has assessed Atlantic cod into six divisions: Newfoundland and Labrador, Laurentian North, Laurentian South, Southern Canada, Arctic Marine and Arctic Lakes.
Newfoundland and Labrador Division
Atlantic cod in the Newfoundland and Labrador region have experienced a 97 per cent decline since the early 1970s. Although the government stepped in, banning all fishing of cod in this region in 1992 and 1993, they've had no luck recovering the species. Moreover, existing Newfoundland and Labrador cod still have larger fish and seals to answer to, as well as changes in the ecosystem from natural and fishing-induced sources.
Laurentian North Division
Cod residing in the St. Pierre Bank and the Northern Gulf of the St. Lawrence along the southern coast of Newfoundland have declined by 89 per cent. Add fishing, predation and natural and fishing-induced changes to the ecosystem to their list of obstacles, and it's clear this cod population has some pretty large obstacles to conquer.
Laurentian South Division
This division is comprised of cod that live along the Southern Gulf of the St. Lawrence, Cabot Strait and in the Eastern Scotian Shelf. Many of these fish also overwinter along the southern slope of the Laurentian Channel. These cod have experienced severe declines of up to 90 per cent due to fishing and natural and fishing-induced changes to the ecosystem.
Southern Canada Division
The Southern Canada division is made up of cod that live in the Bay of Fundy, the Western Scotian Shelf and along Georges Bank. Because of fishing and fishing-induced and natural changes made to the ecosystem they rely on, their numbers have dropped by 64 per cent.
Arctic Marine Division
The Arctic Marine division is comprised of cod that live east and southeast of Baffin Island, Nunavut. While they are few and far between, they are still threatened by bycatch.
Arctic Lakes Division
Residing in coastal salt lakes such as Ogac Lake, Qasigialimiiq Lake and Tariujarusiq Lake, these cod have proved sensitive to human activity as well as fishing.
Some Confusion about Cod
Although fishing cod has become increasingly restrictive and in some areas entirely banned in order to revive the populations, there's been little or no sign of a cod comeback. Only cod living along the northeastern coast of Newfoundland have shown signs of an increase in the last decade.
So what's the problem? Researchers have plenty of theories. Is it that cod are still being caught intentionally or mistakenly through by-catch? Have their predator-prey relationships been thrown out of whack? Are there not enough numbers to provide healthy fertilization rates? The cod conundrum has left researchers scratching their heads.
How Hutchings's Research Fits in
Dr. Jeffrey Hutchings, a professor in the Department of Biology at Dalhousie University and outgoing Chair of COSEWIC, is testing his own theory on the cod's plight, with $29,000 of funding per year over two years from the Canadian Wildlife Federation. Hutchings proposes that part of the reason cod have not recovered may be due to the loss of cod populations that were finely adapted to thrive in their local environment. If this is the case, the recovery of cod may take a long time, as the remaining cod will need to expand into and readapt to local environments.
In a 2007 study, he tested this theory on a large geographic scale, nabbing cod from varying regions and testing their abilities to survive in different temperatures. What he found was that cod from different areas were adapted to grow best at different temperatures, proving that there are genetic differences in the growth and survival rates of cod depending on what environments they're used to.
This year, he's testing for local adaptation on a more targeted level. Hutchings will study differences between cod living within as little as 100 kilometres from one another. His researchers will obtain between 50 to 100 cod from four populations off the coast of Nova Scotia and within a few hundred kilometres of each other. If cod at such a short distances from one another are genetically different, this could explain why they're not recovering quickly. If that's the case, the issue is not as simple as stocking cod, but whether we have enough patience to allow cod the time they need to readapt to their environments and regain their numbers.