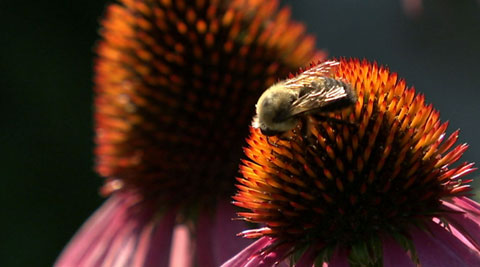 A picnic isn't a picnic without a few unwelcome guests: ants marching over your gingham tablecloth and bees buzzing around the fruit salad. Before you shoo them away, you should know that pollinators, including ants and bees, are responsible for one of every three bites of food you eat.
The Canadian Wildlife Federation will be celebrating pollinators from April 6 to 12, 2008 during National Wildlife Week in partnership with provincial and territorial wildlife agencies, the Canadian Museum of Nature, Environment Canada, Natural Resources Canada, Parks Canada and Scouts Canada.
Approximately 200,500 of the 230,000 plant species on the planet depend on pollination — the transferring of pollen from male parts of a plant to female parts — to survive. Bees, hummingbirds and other species do 80 per cent of the work, while wind and water make up the difference.
But pollinators are having a hard time getting the job done since human habitat is replacing the natural flowering plants that once made up our landscapes and imported parasites and diseases are destroying some pollinator populations. Moreover, bloom and insect activity times are thrown out of sync with one another due to climate change, while the use of insecticides and herbicides meant to ward off pests is simultaneously killing off pollinators.
Without these species, nearly 90 per cent of seed-producing plants including vegetable, wheat and rice, and the pine, spruce and other conifer trees that decorate our Canadian landscape would disappear, taking our food, medicine and wood resources with them. It'd be the end of the world as we know it.
"Pollinators play an indispensable role in our environment. Not only do they put food on our tables, but they also provide nourishment for Canadian wildlife," says Wade Luzny, the Canadian Wildlife Federation's Executive Vice President. "The aim of this year's National Wildlife Week theme is to raise awareness about the issues facing pollinators and to inform Canadians on how they can help."
Make your backyard an oasis for pollinators:
Plant an array of wildflowers of different shapes, colours and blooming times for your garden. Choose red flowers to attract hummingbirds, open and broad flowers like daisies for butterflies and blue, purple or yellow flowers for bees.
Eliminate the use of pesticides and herbicides in your backyard. Lawns doused in these toxic chemicals may ward off weeds and pests, but they can also kill off insect pollinators and their food sources.
Replace your lawn with native plants and flowers to create a feeding, mating and nesting haven for pollinating insects and birds. Not only will you cut down on water waste, but you'll also save an ample amount of time and energy by retiring your lawnmower.
For more information about National Wildlife Week, visit NationalWildlifeWeek.com.