January 13, 2013
By April Overall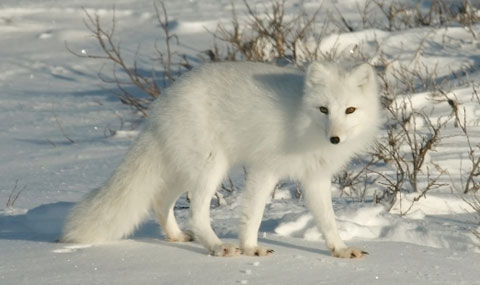 Winter. Some of us stow ourselves away, drinking hot chocolate by a crackling fire, only emerging from our warm abodes to head to work or stock up on groceries. Others relish the blustery weather, hit the slopes and make the hockey rink their second home. Wildlife is no different. They either embrace the cold or fight it.
Wake Me When it's Spring
In hopes of balmier days, many animals sleep off winter's wrath. These animals are known as hibernators. So how do they do it?
Be Still My Heart.
For some wildlife, when the temperature drops, so does their body temperature, heart and breathing rates. A bat's heart rate can drop from 600 beats a minute to 10, and overwintering woodchucks breathe once every five minutes.
Hit Snooze.
In late fall, wildlife like snakes and female bumblebees head to dens or underground holes to nap away the winter. Smaller animals, like chipmunks, can't stuff their mouths enough to produce the amount of fat they'd need to hibernate. Instead these animals, called torpors, pack their dens with food and snooze the winter away, waking only to snack.
That's a Wrap.
Some insects rely on their developmental stages to tide them over. Grasshoppers and crickets, for instance, lie dormant in their egg stage throughout the winter, while butterflies, moths and some wasps snuggle in grey or brown cocoons for the season.
Solid as a Rock.
Some amphibians freeze up for the winter and thaw out in the spring. The wood frog, for instance, boosts its blood sugar by nearly 400 per cent before the frost hits the ground. This glucose solution rounds out the frog's cells and when it begins to freeze, they stretch out seamlessly, keeping the frog alive.
Cold Chameleon.
Fish also adjust their body temperatures to the cold weather. When the temperature dips, their metabolism slows, their body temperature lowers and they don't move around too much. While fish in the deep lakes of northern Canada often make it through the winter, the fish in shallow, warm lakes and sloughs of southern Canada aren't always so lucky. Since these lakes are packed with oxygen hogging plants and algae, the fish may not have enough oxygen to survive till spring.
If You Can't Beat 'em, Join 'em
Then there are those critters with the gumption to stick around for our below zero weather. How do they get by?
I'll Eat Anything.
With meadows and tender plants frozen over, some animals like deer gnaw on twigs and bark. Gross, right? But deer develop a special bacteria that allows them to digest tough bark. In fact, if you tried to feed them something yummier, like hay, they'd get sick since they can't digest it properly. Beavers snack on bark in their dams, while other critters like squirrels stash up on their favourite nuts and seeds for the winter.
Busy as a Bee … or a Bird.
Flitting back and forth from feeder to feeder, birds have to keep up their energy in sub zero weather to survive. Got a bird feeder out? Great! Keep filling it. By late winter, birds rely on feeders to survive since they've used up their own natural food supplies. It's best to start putting out food for birds in October until mid April. Want to be the favourite house on the block? Check out these birdy favourites:
I'd fly a mile for millet– snowbirds and redpolls
Just suet– woodpeckers and nuthatches
Here comes the sunflower seed– grosbeaks and chickadees
Tutti fruity – Bohemian waxwings and robins
But birds aren't the only creatures that are go go going all winter long. Honey bees cozy up to one another and form a large ball in the middle of their hives. To keep warm, they keep moving a bit all winter long. When the bees on the outside of the ball get chilly, they wriggle their way to the centre and push the inside bees to the outside.
Underfoot.
Tiny animals, like mice and voles, duck under the snow for the winter. After 15 to 25 centimetres of snow hits the ground, creating a deep blanket, they delve underneath all the way down to a spot just above the soil. This subnivean level shields mini critters from harsh winter winds and freezing temperatures. As it turns out, snow is actually a fantastic insulator! While we may be braving -40C weather, these critters are cozying it up in -4C. But they're not snoozing. Mice and voles make tunnels, store food and chow down on plant stalks until spring.
Sounds pretty perfect, huh? Well there are always obstacles. They might run into tracks from vehicles, snowmobiles, ski trails or footprints. When they hit these obstacles, they're forced to the surface, cross the track and have to scurry back to the subnivean snow again before they're spotted by owls or coyotes. Packed snow can also stop oxygen from hitting the subnivean levels, allowing deadly amounts of carbon dioxide to form – killing the plants and creatures living there.
Trail Mix.
Larger mammals have it a bit easier than tiny critters. Many mammals, like moose or deer, take to the woods for the winter since they'll be protected from nippy winter winds by coniferous trees. It's also a hot spot because there's less snow in the forest, making it easier to walk around.
In lieu of snow angels, animals make trails in the snow so they can conserve their body energy. Deer and moose make paths through forests; the snowshoe hare creates paths called runways, which are best for outrunning predators. After the work's done, foxes, squirrels, skunks and porcupines use them too.
Smarten Up Your Anatomy
Talk about adapting to the weather! Some wildlife literally change their physical characteristics to brave the storm.
Blend In.
Chionophiles, like the arctic fox, polar bear, ptarmigan, weasel and snowshoe hare, turn a brilliant shade of white for the winter months so they can blend in with the snow. This makes the predators more dynamic hunters and the prey tougher to spot.
Put Your Coat On.
Birds grow dense plumage, feathery legs and feathered nostrils to sustain their body heat and water, while mammals grow a thicker fur coat to keep them bundled.
Happy Feet.
Animals sport different kinds of feet to help them get through the snow. Caribou have narrow furry hooves and pads that harden in the winter to protect them from ice and snow. The lynx, snowshoe hare and ptarmigan have also developed snowshoe like feet so they can travel on top of hard snow without falling through.