January 15, 2010
By April Overall and Pam Logan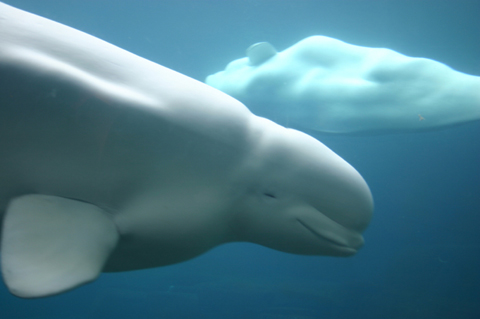 With temperatures averaging -20˚C from December to March, it takes real gumption to make your home in the Arctic. But many mammals, birds and aquatic species rely on this climate to survive. So why is some arctic wildlife on the brink of extinction?
Hoofin' It
The peary caribou (Rangifer tarandus pearyi) makes its home on the islands of the Arctic archipelago, where it survives cold winters on ground and tree lichens. Its body are also able to withstand harsh weather, with thick winter coats and large concave hooves to help it walk on top of snow and dig to find lichens.
Over the last 60 years, the peary caribou's numbers have dwindled by 72 per cent, leaving only 10,000 in Canada. In 2004, the Committee on the Status of Endangered Wildlife in Canada (COSEWIC) designated the peary caribou as endangered.
With severe icing episodes and snow pummeling down on some Arctic islands due to warming temperatures, caribou are having a difficult time finding and getting to lichens through the winter. During a time that they usually hunker down and conserve their energy, they are now forced to work hard to access food and are at increased risk of dying from sheer exhaustion or starvation. Moreover, caribou reproduce at a slow rate, making a recovery a long, drawn-out affair. And with predation, habitat loss, degradation and fragmentation against them, bringing their numbers up is next to impossible without our help.
Wailing Whales
The beluga whale (Delphinapterus leucas) lives in the frigid waters of the Beaufort Sea, Lancaster Sound, Baffin Bay, Cumberland Sound, southeast Baffin, Hudson Bay, James Bay and Ungava Bay, as well as in the St. Lawrence Estuary. In fall, Arctic belugas nosh on Arctic cod to bulk up, diving between 400 to 800 metres to catch a snack. With enough of these snacks, their blubber layer, which grows just below the skin, can thicken up to 9.5 centimetres; this fat works to insulate the whale and keep its internal temperature at a cozy 37˚C during the cold winters.
However, subsistence hunting, industrial development, habitat loss due to shore development, toxic contaminants, and commercial shipping and whale watching activities are working against this great mammal.
In 2004, COSEWIC designated the Eastern Hudson Bay beluga population as endangered. The population's numbers have been cut in half due to overhunting in its summer and migratory range. Fisheries and Oceans Canada estimates that only 1,000 to 2,000 belugas are left in these waters. And experts believe that the population could completely dissipate in the next 15 years if hunting levels continue at its current rate. The committee also designated the Ungava population as endangered in 1998. Some experts suspect the population may actually be extirpated.
Arctic Abandon
Historically, the Eskimo Curlew (Numenius borealis) would breed exclusively in the Northwest Territories from the Anderson River, along the coast to Kugluktuk and towards Snare Lake. They'd then migrate across the Great Plains and through Central America to overwinter in Argentina.
While these birds once numbered in the millions, extensive hunting and loss of prairie grassland migratory stopovers in the early 19th century depleted their population. In November 2009, COSEWIC declared the curlew as endangered. With no verified sightings of these shoreline birds since 1963, they are now anticipated to be the first Canadian bird declared extinct since the Passenger Pigeon almost a century ago.