By April Overall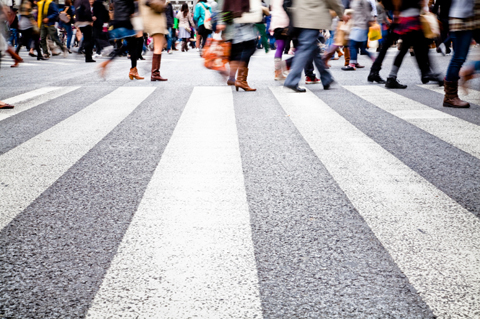 You're late. After a 20-minute subway ride stuck beside a man who forgot his deodorant this a.m., you arrive at the station just a hop, skip and a jump away from your office. You made it, but not before nearly being run over by an overzealous cabbie with a foul mouth. "Sorry!" you yell back, even though it was his fault, not yours. At least the tourists got a snapshot of you spilling your coffee all over your new blouse. Another lovely, memorable moment for the scrapbook. You finally make it to your desk, grab a Tide-to-Go pen to salvage your shirt but it's too late for your sanity. You've got a headache, your palms are sweating and you think any moment now you might lose your cool. It's not you. It's your city.
A new study found that urbanites respond to stress differently than country folk. Researchers asked volunteers – some that lived in cities and others that lived in the country – to solve a series of difficult math problems under time pressure. They tracked how the volunteers reacted to the situation using functional magnetic resonance imaging (fMRI), technology that scans the brain and records activity in the brain. They discovered that urbanites experienced a bigger boost of the stress hormone produced by the adrenal gland, cortisol, than the volunteers that live in the country. According to the Douglas Mental Health University Institute, people born and raised in the city have a 21 per cent greater chance of suffering from anxiety disorders and a 39 per cent greater chance of mood disorders.
It's estimated that by the year 2050, 69 per cent of humans will live in urban areas. So what's the good news? There are things you can do to make you and your city better, courtesy of Mother Nature.
For a Healthier City
Let the sun shine in. A 2005 study found that patients who'd just undergone spine surgery required less medication and experienced less stress and pain when recovering in bright rooms. They also got out of the hospital earlier than patients in dark rooms. Women in particular spent only 2.3 days recovering in a bright hospital room as opposed to 3.3 days in a dark room.
Send your kids outside to play. A 2001 study in Environment and Behaviour found that kids aged seven to 12 who were diagnosed with Attention Deficit Disorder, functioned better after doing activities in the great outdoors (like fishing) than activities inside.
Send flowers (or at least pictures of them) to your grandma in the hospital. A 1993 study found that the images surrounding patients recovering from heart surgery could influence their recovery. Patients in the study were randomly assigned rooms – some with images of nature in them, others with abstract art, and some with nothing at all. The patients with nature images in their rooms were more inclined to lower their dose of painkillers than the other patients, suggesting nature (or at the very least images of nature) can help with postoperative pain.

Take a hike. Visiting a forest may boost your immune system by upping the number and activity of the super cells that fight off cancer cells. Plus the vivid fall foliage is sure to boost your spirits!
For A Safer City
Volunteer to clean up a lake in your city. Researchers at the University of Maryland found that people that are involved in environmental stewardship are more likely to get involved in civic and political activities. Could our future leaders be tree huggers? You've got my vote!
Plant a tree in your neighbourhood. One study found that Chicago dwellers whose apartments were surrounded by green space reported less violent crimes, including domestic violence, than people who didn't have views of greenery from their homes. A similar study conducted on a rough Manchester, England neighbourhood found that after planting trees in the area, calls to Manchester police dropped from 800 to 64 a year.
For a Happier City
Ask for a room with a view. You might be working in cubicle city from 9 to 5, but there are plenty of ways to make it a more livable space. A joint study conducted by Texas State University and the San Marcos Nature Centre asked 450 office workers about their personal job satisfaction and working environments. They found that people who had an office with a window and plants were happier than workers who went without any greenery and toiled under fluorescent lighting all day. That goes for you too, guys! Surveys show greenery and natural lighting make the biggest impact on men.
Take a stroll in the park. Researchers at the University of Michigan found that 45 minutes of walking in a park can boost cognitive performance and help you unwind. A walk in nature will give you plenty of exciting things to look at but also gives your brain muscles some time to recharge. Don't cheat and take a walk downtown. Walking in urban environments requires more concentration – you have to tune out traffic, people, ads, and much more. As such, your mind doesn't get a chance to relax.