By April Overall
We've got spring fever! This season CWF is divvying up its funding between four important wildlife conservation projects.
Chimney Swift
$7,500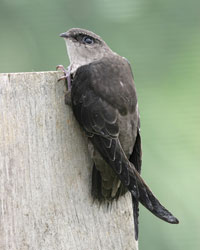 Photo: G. Amistead-VIREO
Since 1968, this aerial insect forager has seen a 95 per cent drop in its numbers. With only 12,000 left in Canada, the Committee on the Status of Endangered Wildlife in Canada listed the chimney swift, an aerial insect forager, an endangered species in 2007. Originally these winged wonders nested in hollow trees, but as Europeans settled on Canadian shores, they swapped trees for chimneys. By 1800, the once woodland bird turned urban. Due to chimney covers, new fire prevention standards, the use of metal chimneys and logging practices, these birds are having a rough time finding a spot to nest; so much so, architects expect their nesting grounds will disappear within the next 20 years. But the Societe de biologie de Montreal plans to change all that by developing, building and installing artificial chimney models across Quebec that'll allow the chimney swift to repopulate.
Russian Thistle
$7,500
The Russian thistle, an invasive plant, has spread throughout the native montane grasslands around Jasper National Park, where wildlife like bighorn sheep and elk graze over the winter. The problem? The invasive, non-native thistle is competing with native plants – a critical source of food for wildlife. Researchers at the University of Alberta plan to discover the impact Russian thistle has on native plants in the region, how grazing wildlife impact the survival and persistence of the thistle and what methods (be they herbicide, mechanical or manual removal) work to keep this weed under control.
Purple Martin
$2,500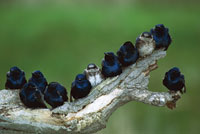 Photo: Tom Venzo-Minden Pictures
In 1985, the B.C. western purple martin population dwindled down to five breeding pairs because of a loss of nesting habitat from logging, clearing land for agricultural purposes, fire suppression and urban development. The remaining nesting spots were sought after by European starlings and house sparrows, leaving the purple martin in a bind. With a little help from the Georgia Basin Ecological Assessment and restoration Society in Nanaimo, B.C., they were able to bring their numbers up to 650 breeding pairs in 2007 by building, installing and maintaining nesting boxes around the Strait of Georgia in B.C.. But after a long cold spring in 2008, the numbers dwindled again to 555 breeding pairs. For 2009, GBEARS plans to keep a close watch on marine and freshwater nest box locations, document the bird's population numbers, and bring the bird back to its old freshwater sites.
Mason Bee
$5,500
Photo: Kim Taylor-Minden Pictures
With native bee populations on a mysterious decline, the Environmental Youth Alliance is aiming to bring blue orchard mason bees back to Vancouver parks. The mason bee is a non aggressive native bee that has a natural knack at pollinating fruit bearing plants – an ideal pick for EYA since one out of every three bites of food we eat is thanks to pollinators. By setting up 53 bee "high rises" in 50 neighbourhood parks and über nests in Stanley Park, Everett Crowley and Jericho, 4320 female mason bees will have a spot to nest. EYA also plans to fill Vancouver parks with blooms by offering parks, apple trees, native plants and wildflower seeds that'll keep mason bees buzzing from bloom to bloom from early March to July. Moreover, since pesticides kill off whole bee populations, the EYA won't use them in city parks. And if Mother Nature takes her course, Vancouver could see 65,000 new mason bees buzzing about its parks in just one generation!