By April Overall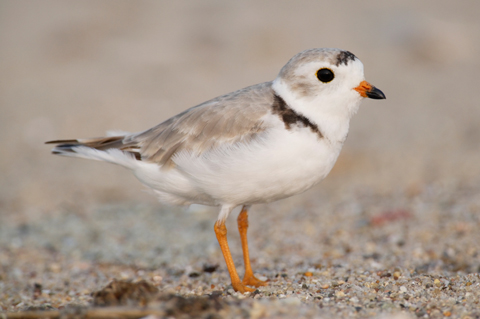 Spring has sprung and so have a bunch of new projects funded by CWF's Endangered Species Program! Read on to learn more about our new funding initiatives.
Sockeye Salmon and Coastrange Sculpin
The sockeye salmon and coastrange sculpin that live in Cultus Lake, British Columbia, have been listed as at-risk. Due to agricultural, recreation, urban and shoreline development, the water quality at Cultus Lake has diminished. Simon Fraser University and the Fraser Basin Council are joining forces to evaluate how nutrients are causing harmful problems in the Lake.
Fowler's Toad
The fowler's toad was listed as endangered due to habitat loss and degradation. In their Long Point, Ontario habitat, human impact on the environment and rampant spread of the common reed has threatened the toad. McGill University researchers will study when the Long Point toads emerge in spring, their population and body size, sex ratio, as well as their growth and survival rates. They'll also use radio tracking to learn what areas are critical habitat and their movement patterns.
Mountain Sucker, Columbia Sculpin and Shorthead Sculpin
British Columbia has the most threatened species of freshwater fishes in Canada. The mountain sucker, Columbia sculpin and shorthead sculpin have all been listed as at some level of risk in B.C.. However there is limited knowledge about how these fish are distributed as well as the size of their populations. The University of British Columbia is researching the movements of these species as well as population estimates.
Northern Pacific Rattlesnake
A highly mobile reptile, the northern Pacific rattlesnake was listed as of special concern in British Columbia due in large part to human disturbance. Researchers at Thompson Rivers University are interested in learning how human disturbance has affected the snake's behaviour and population and how we can conserve the species.
Ivory Gull and Sabine's Gull
Little is known about the biology of the Canadian high Arctic ivory gull and Sabine's gull. Researchers at Memorial University of Newfoundland are carrying out a tagging and tracking study of these gulls to learn where they migrate, their movement and habitat. They'll also record the number of breeding gulls and how many chicks successfully hatched.
Piping Plover
With piping plover populations plummeting in Canada, and the Atlantic population reaching a disastrous low at 494 adults, this bird has been listed as endangered. One of the largest threats to their survival is predation. Researchers at Dalhousie University will study the predators of piping plovers and the effect they've had on the bird. They'll also study how effective nest enclosures would be for the survival of the species as well as how parental behaviour affects reproductive success.
White Sturgeon
Since 2003, lower Fraser River populations of white sturgeon have declined by 25 per cent. Researchers at the Fraser River Sturgeon Conservation Society and LGL Environmental Research Associates are working together to track the Endangered white sturgeon. Acoustic tracking will help identify critical overwintering, feeding and breeding habitats for the fish, acquire timing of sturgeon movement and identify fishery threats to the population.
Freshwater Mussels
Researchers at the University of Guelph are hard at work developing strategies to recover at-risk freshwater mussel species. Scientists are looking into which fish species are necessary for mussel reproduction, reproduction periods for target species, and clarifying what habitat conditions are best suited for juveniles.
Red Knot
The rufa red knot population has dropped from 52,000 to 15,000 since 2000, putting it on the Endangered species list. Mingan Archipelago National Park Reserve in eastern Quebec has been an important discovery for the red knot recovery. Researchers at the Royal Ontario Museum will be monitoring the red knot in this area to project population recovery and determine which areas of the flyway harbour more risks to the bird.