By April Overall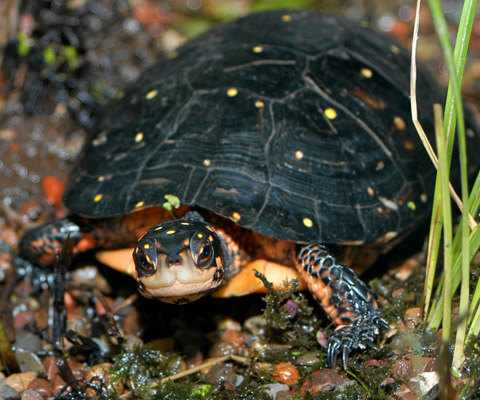 The spotted turtle (Clemmys guttata), has 104 populations, all of which call southern Ontario and Quebec home. No matter how tough their shells are, these reptiles are struggling for survival as they are faced with threats such as road mortality, predation, agriculture and pollution. Moreover, habitat destruction and capture for the pet trade are heightened when turtles congregate for breeding in the spring and hibernation in the fall. In the last 40 years, their numbers have declined by 35 per cent, leading the Committee on the Status of Endangered Wildlife in Canada (COSEWIC) to list the species as endangered in 2004.
The Canadian Wildlife Federation's Endangered Species Program is giving $7,005 to Seburn Ecological Services to research a spotted turtle population in a wetland near Ottawa, Ontario. With a road running through the wetland, and the population living just 20 metres from the road, the organization is interested in learning whether or not the road poses a threat to the population.
Let's Get It On
When turtles reach sexual maturity, sometime between 11 and 15 years of age, they make the trek to ponds, bogs and marshes in late May and early June, hoping to find a potential romantic partner. The spotted turtle will return to the same aquatic habitat whenever they're looking for love, although these turtles do not mate on a yearly basis.
In mid- to late June, females spend their evenings preparing their nests in shallow dirt, making their niche comfy with lichen, moss and litter. Averaging five eggs per clutch, the young are considered tasty treats by a range of predators including raccoons, red foxes, skunks and even ants. It's a tough life for eggs and juveniles, and many don't make it to adulthood; therefore, conserving the adult population is crucial.
Baby, It's Cold Outside
Winter would wreak havoc on spotted turtle populations if they didn't hibernate. These reptiles journey to sites that are sheltered from Jack Frost's wrath and keep warm by huddling together. En route, predators like raccoons, skunks, otters, minks, muskrats, black bears and bald eagles will seek out the spotted turtle for food. According to COSEWIC, many adults have scars from encounters with predators including missing limbs, stubbed tails and deep scratches on their shells. Researchers studying the spotted turtle found that approximately 48 per cent of turtles of a Georgian Bay population were injured. Hibernation is also a peak time in which spotted turtles are caught for the pet trade, as traders are able to find the turtles congregated together. Between 1989 and 1994, the U.S. Humane Society reported at least 25 million turtles had been exported through U.S. ports.

How Seburn's Research Fits in
David C. Seburn, from Seburn Ecological Services, is studying a population of spotted turtles near Ottawa, Ontario. The Nature Conservancy of Canada owns a plot of land in the area, which is habitat for the spotted turtle. But since there is a road running through it, researchers are interested in learning whether the road poses a threat to the species. Their low reproductive rate makes it hard for the population to bounce back from even slight increases in adult turtle deaths.

As such, sustaining the adult population is key to sustaining the species itself. To date, the spotted turtle has only been found 20 metres from the east side of the road. Seburn and his team were conducting surveys between May and June to determine if there are any signs of spotted turtles on the west side. Between May and September, five spotted turtles will be fitted with radio telemetry tools to track their movement and find out if the turtles commonly cross the road.