By Stephanie Poff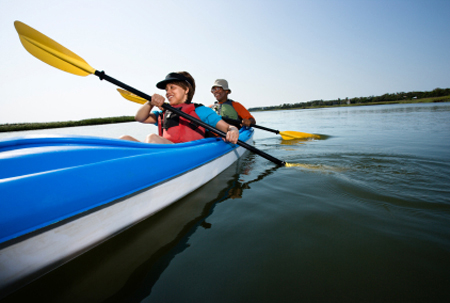 Make a splash this month during Rivers to Oceans week! Beginning on June 8 (Oceans Day) through to June 14, Rivers to Oceans Week raises awareness about how valuable Canada's waters are and reminds us that conserving the quality of all water flowing across our land is crucial to the health of Canada's oceans.
Get Your Feet Wet
We're encouraging Canadians from coast to coast to share why water in your community matters through CWF's Water's Worth It! video contest. You're invited to send in a one-minute video letting us know what's special about water and why it's worth conserving. You can talk about the entire Pacific Ocean or about a stream, flowing through and nurturing a local habitat, or your local wetland – all water is a precious resource. Just make certain that your video is sent in by Monday, June 20, 2011. The winner will be selected through online voting at RiverstoOceansWeek.ca which takes place from July 1 to 8, 2011. The winner will be announced in July and the best part is that CWF will contribute $2,000 in funding towards a water-conservation project in the winner's area (see rules and regulations for details).
Drift On By
Rivers to Oceans Week is also a time when CWF highlights water issues at events across the country. CWF celebrated Oceans Day at the Halifax Maritime Museum waterfront on June 3, bringing its hands-on "Fish-D" exhibit on visual adaptations of aquatic species to the Eureka! On June 8, we were at the Biodôme in Montreal with the Groupe de recherche et d'éducation sur les mammifères marins (GREMM) to launch the 2011 posters for the Réseau québécois d'urgences pour les mammifères marins. On June 13, CWF will host a film screening at the Canadian Museum of Nature with a Q&A with the director of 100 Days, a documentary about a non-motorized rafting expedition along the length of the Yukon River, a Canadian Heritage River. And we'll be at Festival at the Quays of the Old Port of Montreal from June 17 to 19. To learn more, visit RiverstoOceans.ca or CanadianWildlifeFederation.ca.