July 10, 2011
By April Overall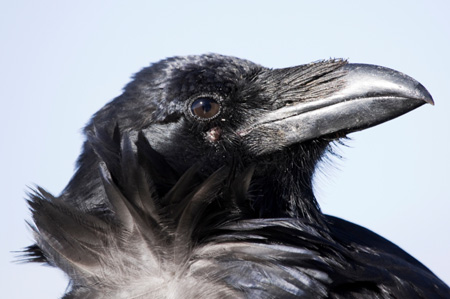 Next time someone calls you a bird brain, thank them. They may not know it but they're paying you a compliment. Birds are highly intelligent animals. There are a number of signs that show a higher level of mental abilities including a good memory, the ability to understand grammar and symbols, imitation, cluing in on the motives of others and creativity.
I Will Survive!
Researchers at the Natural History Museum in London studied two 55-million-year-old seabird skulls and found their brains were more complex than originally thought. It seems their larger, more complex brains gave them the ability to adapt to a world that, some 65 million years ago, dinosaurs couldn't adapt to. The prehistoric seabird brains also showed early development of a portion of the brain, called the wulst, that allowed for complex behaviour and cognition. As a result, these birds were able to learn about the environment around them and remember it. All thanks to larger noggens.
To Catch a Thief
When you know better, you do better. This may be a scrub jay's motto. Through generations of experience, a scrub jay knows that if another jay watches it hide a nut, there's a good chance it'll keep a mental note of where the nut was stashed, swoop in and then steal it. To avoid this, the first scrub jay will return to the location and move the nut to a secret location when the thief isn't around.
Tricksters
Ravens become better manipulators as they age. According to University of Vermont zoologist, Bernd Heinrich, juvenile and adult ravens act differently when feeding on a carcass. Young ravens will holler during their feeding to attract other young ravens to the scene for safety purposes. The more ravens the easier it is to avoid competition with other scavengers. Adults, on the other hand, pair up and mow down quietly so as not to draw attention to the food – keeping the whole carcass to themselves.
What a Tool!
Some birds have such advanced intelligence they have learned to create and use tools. In the forests of the New Caledonia, one crow is turning heads with its tool-making skills. The New Caledonian crow has developed the ability to create hooks from sticks and the stems of leaves in order to unearth grubs from the top of palm trees. An Oxford University study found that New Caledonian crows born and bred in captivity were also able to create such tools, affirming that these skills are inherited.
Other birds have even learned to take advantage of modern technology. In Japan, crows will wait at crosswalks alongside humans waiting for the light to turn green. The birds place walnuts in front of cars on the road and hop back to the sidewalk. When the cars have the right of way, they drive over the walnuts, breaking their shells. Finally, it's time! The crows pick up their walnuts and chow down.
Good Memories
Although it seems elephants have nabbed the award for best memory, birds are giving them a run for their money. The Clarke's nutcracker, for example, will collect up to 30,000 pine seeds over a three week period in November and then buries them over a 200 square mile area. Over the next eight months, it will retrieve 90 per cent of the buried seeds – even if they're covered in snow!
Bird Babble
Researchers are learning that some bird babble is actually complex, meaningful communication! A professor at the University of Arizona taught a captive African grey parrot to remember over 100 words. The parrot also has the ability to name and distinguish between different colours and shapes and has also learned the labels of 35 various objects. Moreover, the parrot is able to not only complete sentences but also to know their meaning.