By Stephanie Bonner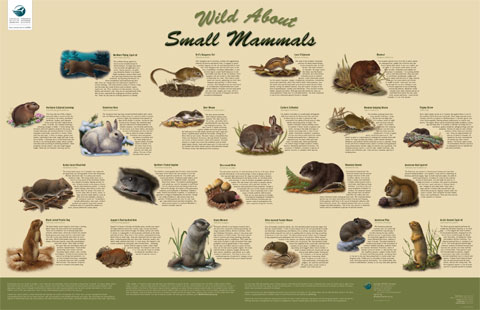 For this month's edition of Take Five we'll be highlighting five of the 22 species featured on our new Wild About Small Mammals poster!
Learn more about how to get your copy of this and other fantastic "Wild About…" series posters.
American Pika (Ochotona princeps) – This herbivore dedicates its days to collecting food, watching for predators and sunning itself on warm rock faces. Its habitat includes the mountains of British Columbia, southern Yukon and western Northwest Territories.
Northern Collared Lemming (Dicrostonyx groenlandicus) – The Northern collared lemming can be found in the Arctic Tundra of the Yukon, Northwest Territories, Quebec and Labrador. As a crucial food source for species such as the Arctic fox and long tailed jaeger, the lemming spends its days and nights trying to survive and evade predators.
Ord's Kangaroo Rat (Dipodomys ordii) – This small, feisty mammal will aggressively defend its food and home by engaging in aerial combat — leaping into the air, using its tail for balance and slashing with its hind feet! Ord's kangaroo rats can be found in southwestern Saskatchewan and southeastern Alberta.
Hoary Marmot (Marmota caligata) – One of four confirmed species of marmot in Canada, the hoary marmot lives in colonies, interacting with others and hibernating for up to eight months of the year. By burrowing under boulders it is able to gain the best protection from grizzly bear attacks.
Snowshoe Hare (Lepus americanus) – The snowshoe hare earned its name from its wonderfully well-equipped hind feet. Its feet are long, broad and matted with coarse hair, which is helpful in deep snow. Those feet also carry the snowshoe hare upwards of 40 kilometres an hour to escape predators.
Next month in Take Five: Discover bodies of water!