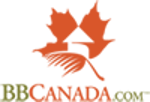 Planning a vacation? Don't forget to visit BBCanada.com to book your wildlife-friendly accommodation! This summer, CWF and BBCanada.com partnered to introduce the Backyard Habitat Certification for Bed & Breakfasts. BBCanada.com members from across the country were encouraged to grow wild in their gardens and apply for certification. What does this mean for you, the guest? You can now rest easy knowing that where you are staying is free from pesticides and has demonstrated a commitment to providing a sustainable
place for Canadian wildlife.
Look for the Wildlife-Friendly Garden icon on member listings when making your booking!