By Stephanie Bonner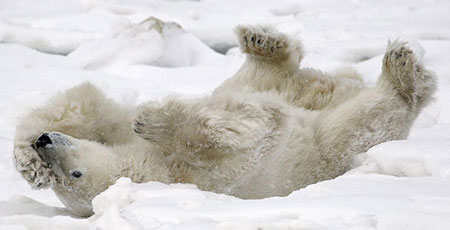 Photo: Bonnie Grzesiak
Are you looking for a fright this Halloween? Look no further than endangered species in Canada. The stats are scary!
Did you know that over the past 500 years approximately 30 wildlife species have become extinct in Canada? Or that there are over 500 species considered to be at risk? Talk about scary!
The polar bear has gained a lot of attention regarding species at risk. This is in part because of the dramatic changes that we can see happening to its northern habitat. The ice shelves melting and breaking away are documented examples of our changing world. But what about the species that are losing their habitat that we don't always see or hear about?
Today, Canada's wildlife faces new threats, particularly the changing face of their habitat and the environment. Certain types of habitat are disappearing at a tremendous rate in almost all parts of Canada. Forests are being fragmented for logging, wetlands are being filled in and developed, and grasslands are being ploughed and fenced. In every province and territory there are endangered species feeling the effects of change; the Blanding's turtle in Nova Scotia, the Peary caribou in Nunavut and the Northwest Territories, and the Southern Mountain population of the Northern Leopard frog in British Columbia.
Specifically, the Northern Leopard Frog population in British Columbia has been on a dramatic decline over the last 30 years. The low population numbers coupled with changing temperatures, plus invasive species and urbanization all decrease its chances for survival.
So how do we know that hundreds of species are at risk and populations are dwindling? The Committee on the Status of Endangered Wildlife in Canada (COSEWIC) is responsible for assessing the status of wildlife species believed to be at risk. COSEWIC uses a process based on science and Aboriginal or community knowledge to assess species at risk. All native mammals, birds, reptiles, amphibians, fish, arthropods, mollusks, vascular plants, mosses and lichens are included in COSEWIC's current assessment.
The number of endangered species in Canada is scary. But the message that can be taken is that saving endangered species isn't out of our reach. Habitat is everywhere, not only in the far north but in our fields, rivers, wetlands and backyards. What we do in our day to day lives can really make a difference for species, spaces and the quality of the environment. Check out the Canadian Wildlife Federation's website Hinterland Who's Who at www.hww.ca to learn more about what you can do or see some of our habitat projects.