March 8, 2013
By Jerika Bradford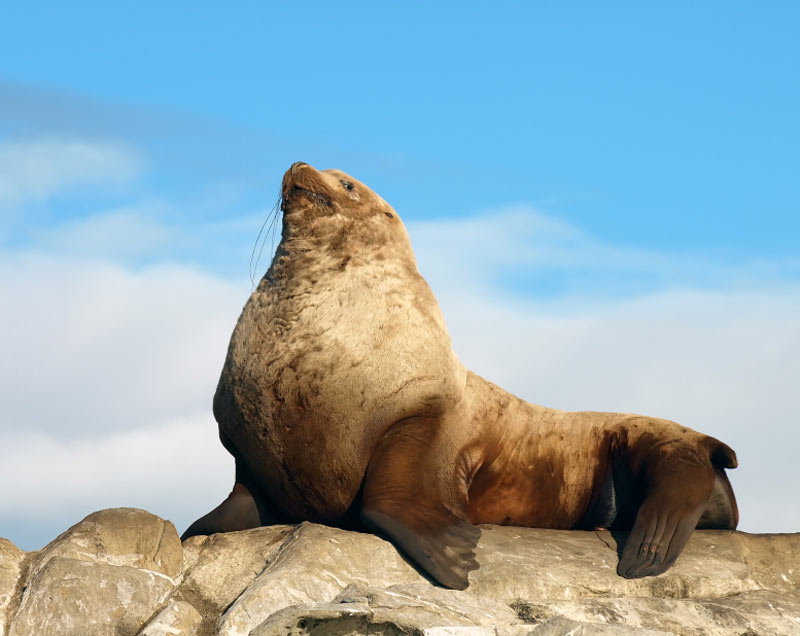 The Steller sea lion is the biggest sea lion species, with males typically weighing in at 400 to 800 kilograms and females at 200 to 300 kilograms. They mainly live throughout the coastal waters of North Pacific from California to the Bering Strait. They also live west and southwest along the coast of Asia to Japan. In Canada, Steller sea lions are found along Scott Island, Cape St. James and Banks Island in British Columbia. Steller sea lions divide their time on land, where they rest, mate and take care of their young, and in the water, where they hunt for food. They have been known to venture out 200 kilometres offshore and dive over 2,000 metres deep to snag their prey!
So What's the Problem?
Unfortunately, over the last 30 years, Steller sea lion populations have declined by an overwhelming 80 per cent. As a result, this species has been listed as of Special Concern in Canada. Why? Because the very areas Steller sea lions call home are also home to the fishing industry. As such, many sea lions have accidentally become entangled in fishing gear or debris, resulting in lacerations, infections and death by strangulation or starvation.
How Szaniszlo and Haulena's Research Fits In
The Canadian Wildlife Federation is giving researchers Wendy Szaniszlo and Dr. Martin Haulena (an internationally recognized marine mammal veterinary expert) of Vancouver Aquarium Marine Science Centre $19,050 through its Endangered Species Fund. This funding will allow the researchers to gain valuable information about how and how often Steller sea lions are getting entangled in fishing gear and marine debris. They will review over 200,000 photographs and entanglement records, noting the material or gear the lions have gotten tangled in, the age and gender of each entangled animal, whether specific animals have been entangled on multiple occasions and where these entanglements have occurred.

This data will help develop safe, reliable methods of disentanglement specifically addressing sea lions, as there are currently no available techniques to respond to this type of entanglement. Moreover, researchers will create an education program to prevent sea lion entanglement off the west coast of Vancouver Island.