By Maria MacRae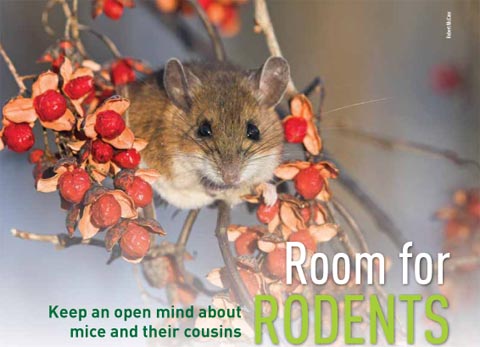 How your garden can coexist with wildlife
The Insectivores
Not all furry little critters are rodents. Moles and shrews belong to the order Insectivora or insect eaters. As the name implies, these are beneficial to have around for the important role they play in controlling insect populations. Shrews, in particular, are voracious predators. Their high metabolism keeps them active and eating year round, with insects as their favourite food source.
~MM
The word rodent does not usually inspire a great deal of affection. Nor does the sight of a small, hairy creature scurrying across the garden.
It seems we harbour an inherent dislike for many of these creatures. Those few rodents that can manage not to evoke revulsion, and are even considered cute by many, such as squirrels or groundhogs, still arouse a fair amount of ire among many gardeners. Their tendency to target prize plants just at their peak can be frustrating at best. And yet there is much to admire — or at least to find interesting — about these surprisingly fascinating critters, many of which contribute significantly to the health of our environment. There are about 66 native diverse species of rodent in Canada, including porcupines, lemmings, voles, mice, chipmunks and prairie dogs. Six are listed by the Committee on the Status of Endangered Wildlife in Canada as being at risk nationally. Thirty-four of our rodent species are listed provincially as being at risk. Although they may seem plentiful, even frustratingly so, we should have some concern for the welfare of our rodents.
Cast of Characters
Our diversity of rodents includes a number of quirky creatures, with some interesting and unique adaptations:
- Our flying squirrels are able to glide long distances thanks to an elastic flight membrane between their front and back legs.
- The hoary marmot is known for the high-pitched whistle it gives to warn others of danger. Whistler, B.C., took its name from this rodent, which is sometimes called the whistle pig.
- The black-tailed prairie dog is very social, living in dense colonies called towns, and identifying others in its group by touching noses or "kissing."
- Our most primitive rodent is the mountain beaver, considered a living fossil. Not an actual beaver, it resembles a stubby-tailed muskrat. It dries grasses and ferns in the sun before storing them for the winter.
- The northern pocket gopher has cheek pouches that open to the side of its face instead of into its mouth. It cuts plants into five-centimetre lengths and uses its forepaws to stuff them into its cheek pouches.
- The olive-backed pocket mouse uses its large hind feet to propel itself more than one metre through the air. It creates burrows using its forepaws to dig and its hind feet to propel the sand backwards.
- The Ord's kangaroo rat engages in aerial combat with other kangaroo rats, leaping in the air and slashing with its hind feet. It repels predators such as rattlesnakes by kicking sand in their faces.
- The bushy-tailed wood rat is Canada's only native rat. It is also known as a pack rat due to its predilection for hoarding objects, including things such as false teeth and jewellery. It prefers to trade rather than steal, often leaving a pine cone, stick or other object in the place of its pilfered treasure.
- The collared lemming forms strong family bonds, with both parents taking care of the young. - The muskrat, a proficient swimmer, can remain underwater for three minutes or longer.
- The two-centimetre-long meadow jumping mouse is not only excellent at long jump but also an apt swimmer, able to dive down more than a metre.
They are, after all, a valuable food source for more esteemed predators such as owls, bobcats and wolves. Great gray, long-eared and barn owls show a marked preference for voles, while northern goshawks prefer squirrels. American martens use mice as their main food source, although they also love red-backed voles. Half the diet of ermine is composed of mice, which are also enjoyed by many weasels.
Grizzly bears like to feed on ground squirrels and marmots. The endangered northern spotted owl relies on an abundance of flying squirrels to sustain its diet. Lemmings are a crucial food source for the Arctic fox and long-tailed jaeger, whose populations fluctuate according to lemming numbers.
Some of our rodents also help to keep pest populations under control. Some, such as the least chipmunk, black-tailed prairie dog or deer mouse, help out by feeding at least partially on a diet of grasshoppers, beetles, caterpillars and other potential insect pests. Other species such as the northern pocket gopher contribute to grassland ecology. By bringing subsoil to the surface, their burrowing keeps the soil aerated, though it can create problems in agricultural areas and gardens. The muskrat plays an essential role in creating open water habitat for other wildlife. The red squirrel helps with reforestation by collecting and burying tree seeds.
Despite these helpful habits, if we're being honest, we have to acknowledge that rodents are better known for the problems they cause. Squirrels dig up bulbs or chew up birdfeeders. Deer mice move into our own homes. Ground squirrels and marmots burrow in lawns or agricultural areas.
We should keep in mind, however, that some of the most irritating rodents, such as the house mouse, brown rat or roof rat, are not native to Canada. They were introduced from overseas as stowaways on ships and have made themselves at home here, especially in urban areas.
If you choose to provide a bit of habitat for some of our small mammals, be sure to provide shelter in the form of brush piles, logs and dense vegetation, as many of these creatures prefer to stay in the safety of cover. Check out their food preferences and see what your property might be able to provide. Be sure to protect them from non-native predators by keeping your cat indoors. Sources of water in the form of streams or ponds will also be appreciated.
And try some tolerance if they nibble plants that were not added for their benefit while finding ways to protect your more valuable and treasured plants. Consult www.wildaboutgardening.org for tips on habitat creation, dealing with problems and living in peace with some of our least-loved mammals.
Maria MacRae is manager of CWF's backyard habitat programs.
Avoid trapping and removing animals; it is difficult to find suitable habitat that is not already occupied. It is also illegal in many areas to release an animal more than one kilometre from where it was trapped. Also, trapped animals will often injure themselves, can spread disease to new areas and can leave their young orphaned. If your property is good habitat for a particular species, the removed animal will soon be replaced by another one.
As urban areas expand, they gobble up more and more natural habitat. The onus is on us to find ways to live in harmony with displaced species, providing habitat where possible and solving problems with understanding and flexibility.
Maria MacRae is manager of CWF's backyard habitat programs.
If you would like to learn more about Canada's rodents and other small mammals, request a copy of our Wild About Small Mammals poster by calling 1-800-563-9453 or e-mailing info@cwf-fcf.org with your request and full mailing address.