April 9, 2015
By Jerika Bradford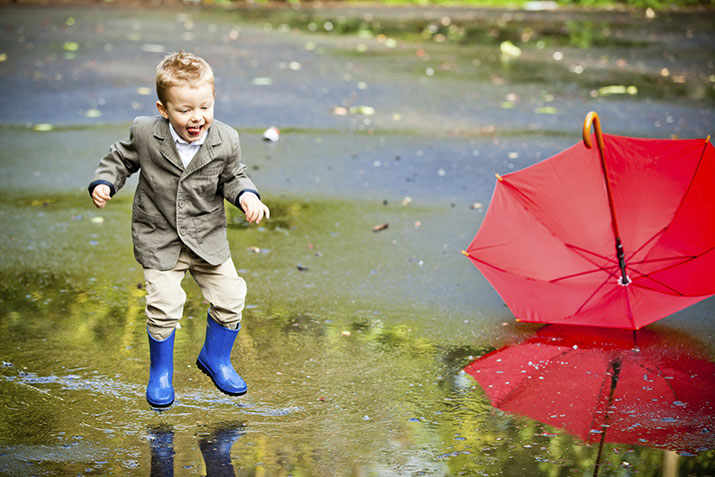 Some people walk in the rain, others just get wet." — Roger Miller

Lazy rainy days. Some people love them and others can't stand to be cooped up inside. Rain provides much more than a day playing board games or a Netflix marathon. For plants and wildlife, rain makes them come alive. Life flourishes in so many ways when it rains, from washing away dirt off of plants, providing a drink of water and habitat for wildlife to forming puddles so birds can enjoy a nice bath!

Indeed, rain is fascinating. We've collected some watery facts that will blow your mind about the stuff.
Raindrops have been clocked falling at 18 mph.
Rain doesn't actually have a scent! Many plants secrete oil and it dries on the ground. When rain hits the ground, it releases the plants' oil in the air along with another compound called geosmin — which is what you actually smell!
Umbrellas were originally invented for the sun — not the rain.
Have you ever wondered why there are so many worms out when it rains? Some earthworms make their way to the surface when it rains so that they don't drown in water-logged soil, while others head up to get frisky with other earthworms. Moreover, it's much easier for them to get from point A to point B when the earth's surface is wet than dig through tunnels in the ground.
Did you know rain isn't teardrop shaped, it's actually ovular?
The city with highest rainfall ever recorded in one year is Cherrapunji in India. This unlucky city got around 26,400 milmetres of rain. That's 26.4 metres! Eek.
Tut, tut, it looks like rain! Now you can spot a rain cloud before you get stuck in a downpour! Watch out for two kinds of clouds: cumulonimbus clouds which appear tall and puffy and slightly flat on top, and nimbostratus clouds which are flat and gray. These are rain clouds; if you spot them, you can bet that rain is on its way over the course of the day.
Did you know that rain doesn't always fall to the ground? In particularly dry warm places, it can evaporate midair before it lands!