By April Overall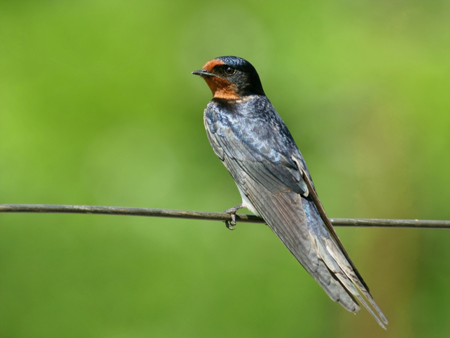 The assessment of 40 wildlife species by the Committee on the Status of Endangered Wildlife in Canada (COSEWIC) in May has highlighted a need for provincial and federal governments to work towards preventing the loss of Canada's native species. Of the 22 reassessed species, COSEWIC found the risk status of three species had increased – the northern bottlenose whales of Davis Straight, silver shiner and two populations of spring salamanders; Carolinian and Appalachian.
Oh Behave!
If you think yesterday's all you can eat sushi indulgence doesn't have an impact on species at-risk, guess again. Human harvesting and eradication are the primary reasons for population declines of many aquatic species including the Atlantic bluefin tuna and Atlantic sturgeon.
Atlantic bluefin tuna continues to be one of the most coveted fish species on the globe. Some people pay over $1,000 for a single kilogram. To date, overfishing is the biggest threat against the species and since it's a highly migratory species travelling from Canadian waters all the way to the Gulf of Mexico to spawn, this is a problem that crosses borders. It's such a big problem that COSEWIC has listed the Atlantic bluefin tuna as Endangered.
The last of Canada's five Atlantic sturgeon populations were deemed at some level of risk during the latest COSEWIC meeting. The Great Lakes/St. Lawrence and the Maritimes regions populations were assessed as Threateend due to habitat degradation and hydro electric dams.
Nature's Mysteries
Scientists are scratching their heads at two of the assessed species that have experienced large declines in their populations. They're not entirely sure why barn swallows and the eulachon are doing so poorly in their numbers.
You've probably seen barn swallows swooping to nab a flying insect over lakes and fields, and certainly no one wants this beautiful bird to disappear from Canada's landscape. But it appears that's just what it's doing. These birds have seen declines up to 76 per cent in the last 40 years and COSEWIC has designated the bird as Threatened. Is it due to changes in their habitats? Something wrong with their prey? Climate change? For now it remains a mystery.
COSEWIC assessed the euchalon, a species of smelt native to the northeastern Pacific, for the first time during this past meeting. The euchalon once played a crucial role to many First Nations groups of coastal BC. However, since the 1990s, their populations have seen declines of 90 per cent or more. Scientists are still unclear whether the cause of such a dramatic drop in numbers is due to a change in environmental conditions, by-catch, fishing or predation. Nevertheless, the Nass/Skeena Rivers population was assessed as Threatened while the Central Pacific Coast and Fraser River populations were assessed as Endangered. One area of significant concern is that two assessed species have had large declines in their populations for reasons that are not entirely known.
Lost and Found
Canada has likely lost two species: the small whorled pogonia and the Blanchard's cricket frog. The small whorled pogonia was a native orchid that grew in the woods of south western Ontario and was last spotted in 1998. The Blanchard's cricket frog called Lake Erie home but hasn't been found in the location since 1970. Scientists believe habitat degradation lead to the frog's demise. COSEWIC is holding out hope for the two species, listing them both as Endangered until it receives further evidence that it has indeed been lost from Canada's wilderness.

But all is not lost! The North Pacific population of the humpback whale, a 45 ton marine mammal, once designated as Threatened in 1985, has seen great growth in its population. Despite the threats of ship collisions, entanglement with fishing gear and underwater noise, these mammals are making a comeback and COSEWIC re-assessed the population as Special Concern.