June 23, 2014
By Annie Langlois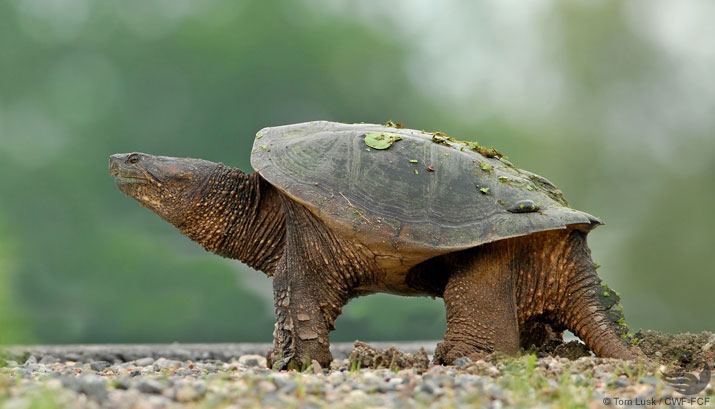 Turtles have roamed our planet for over 20 million years. That's pretty impressive, since major catastrophes have happened during that long stretch of time, including several ice ages and, of course, the extinction of the dinosaurs. They survived all of these traumatic events, but now, they are facing a new challenge: human activity. And, sadly, some of the species that are the most affected are our own eight native species of freshwater turtles.
Those Turtles Are Tricky
Each species of freshwater turtle has to have access to a variety of habitats to thrive, as they need both land and water to complete their life cycle. Some species are more terrestrial, like the wood turtle, while others are more aquatic, like the distinctive-looking spiny softshell. But overall, turtles need land to lay their eggs, and water to mate and hibernate. This can create quite a puzzle for biologists and conservationists, as for a single species, areas of lakes, of wetlands, of streams, of shoreline, or fields and of woodlands might all be needed for its conservation. If only one of those habitats is lost or degraded, a species or a population may become at-risk. In fact, all but one species of the nine freshwater turtles in Canada are currently at risk. Other threats to our turtles include climate change, collisions with vehicles on land and in water, capture for the pet trade, and nest and hatchling predation by mammals and birds looking for easy prey.
You to the Rescue
But do not despair, there is still much you can do to turn this situation around and help these fascinating reptiles. You can start by checking out which species are found in your area (there are freshwater turtles from coast to coast in Canada!) and learning more about them on Hinterland Who's Who. Then, you can join a local shoreline cleanup to help their habitats stay healthy. Also, a useful skill to have if you live close to turtle habitat is to learn how to safely handle a turtle. This can be of great help if you need to help one cross the road. If you want to do more, you can get informed as to if there is a research project going on close to where you live, and volunteer to keep tabs on the local turtle population. Scientists may need your help to discover new, cool things about turtles!

Find out more about each of our eight amazing freshwater turtles on Hinterland Who's Who!