August 8, 2013
By April Overall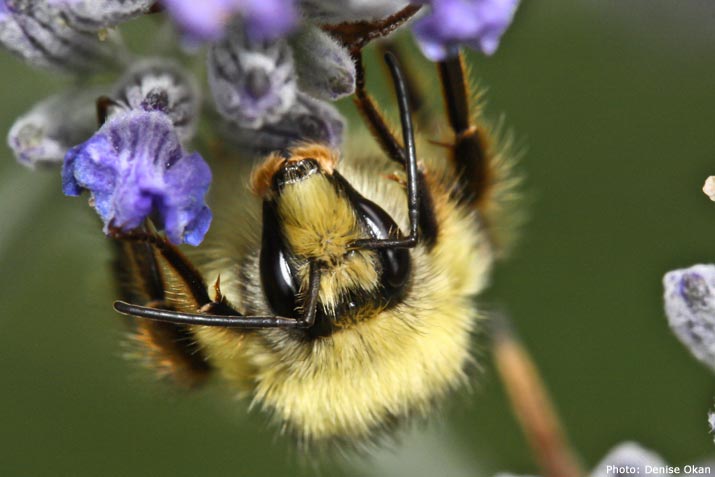 Did you know that approximately one-third of the food you eat is thanks to a pollinator? Yup! And bees do most of the work. Unfortunately many bees are under threat. One of the biggest threats they face is a loss of habitat. As native plants are being replaced with exotic gardens, grassy lawns and roads, our bees are having a rough time finding a place they can call home.
But you don't have to wait for someone else to save them. Get that white steed ready and come to their rescue!
Do think in colour! Bees are attracted to purple, blue, pink and yellow flowers.
Don't plant wildflowers that only bloom at one time. Ensure that there will be enough flowers for your winged friends from early spring all the way into fall.
Do go big or go home! Plant as many native blooms as you can because bees are busy! They can visit 10 to 18 flowers in a minute and between 50 and 100 flowers in a single pollination trip!
Do leave some soil undisturbed for bumblebees as they often make their nests in soil.
Don't discount the importance of herbaceous plants! Plants like crocus and primrose are especially helpful in the early spring when bees first begin gathering food.
Do plant their favourites! Sunflowers, bee balm and goldenrod will go over well.
Do plant your fruit and vegetable gardens with bees in mind! Bumblebees will pollinate tomatoes, eggplant, peppers, melons and berries.
Do opt for short blooms. Bees have small tongues compared with other pollinators like hummingbirds and butterflies, so they prefer short flowers.
Don't plant flowers with tight buds. Bees have a hard time getting nectar from these blooms.
Do choose clover! Honey bees will opt for white clover, while bumblebees prefer red clover.
Do build a bee condo to give them a place to settle.