By April Overall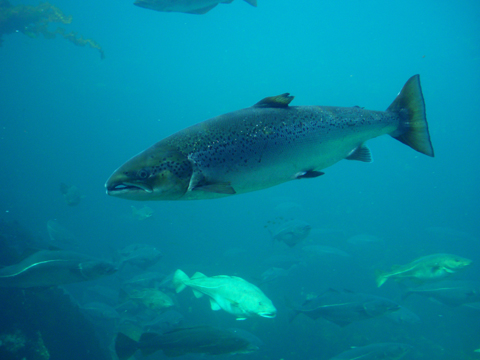 You've taken the pledge to not eat open-pen fin-fish farmed salmon. Brava! So…….now what? If your cookbook library looks anything like mine, you've got a slew of recipes for salmon to sort through. Cedar plank salmon, salmon pot pies, salmon burgers – are you salivating yet? You don't have to quit salmon altogether! You might just need a little guidance on how to navigate your way through the grocery store. Keep reading and we'll make you a pro in no time.
At the Grocery Store
Atlantic. Pacific. Coho. Sockeye. Fresh. Wild. Organic. They certainly don't make it easy for us to navigate our way through the many labels surrounding salmon, do they? We've got a do and don't list to help you in the grocery store:
Do know what a healthy salmon looks like. When you're at the market, pick salmon with shiny flesh, clear eyes and if you can (although it may be a little awkward) take a whiff – it shouldn't have any fishy odour.
Don't buy Atlantic salmon. No really. Don't. If the label reads Atlantic salmon you can bet that it's farmed. To date, there are no legal commercial fisheries for Atlantic salmon.
Do look for species names: pink, coho, sockeye, spring/chinook or churn salmon are more often than not wild salmon. To be sure, ask someone at the seafood counter where they come from as some chinook salmon are indeed farmed.
Do speak up. As consumers, we hold the power for what is put on grocery store shelves. If you pipe up and tell your grocery store that you want wild salmon stocked and that you won't be eating farmed salmon until the aquaculture industry adopts better practices, they will listen.
Don't be fooled by the word "fresh" on packaging. Just because a label reads "fresh salmon" doesn't mean it's wild. In fact, it's most likely farmed.
Do nosh on more salmon sandwiches. According to Health Canada, the canned salmon you use to make your tea sandwiches are primarily from wild stocks.
Do head to the local fish shop to pick up your salmon. Their business is seafood so they will be well informed when you ask where the salmon is coming from.
At a Restaurant
You want to be respectful of the chef, but you also want to know where your salmon is coming from. Here's how to ask (politely) about the fish on your plate.
Do check the menu. If Atlantic salmon is on it, you can be sure its farmed salmon. Don't order it. Better yet, speak up and tell the waiter you wish they'd served Pacific wild salmon.
Don't be scared to ask if the salmon was caught or farmed. If your waiter doesn't know, ask for them to find out for your next visit.