November 10, 2015
By David Hayes

Courtesy of Canadian Wildlife Magazine
Early on the morning of Thursday, Aug. 20, 2009, Glen Ehler and Quentin Deering sat in a blue Chevy Venture minivan joking about how, despite the vehicle, two solidly built men with shaved heads would never be mistaken for soccer moms. As commanders of a six-vehicle sting operation, they had positioned themselves at a strategic spot outside Grand Bay-Westfield, a suburb of Saint John, New Brunswick. Officers in five other vehicles, each one different and as nondescript as the Venture, were in place, spread out enough not to draw attention.
It was a clear, bright day and from this vantage point, Ehler, director of wildlife enforcement for Environment Canada's Atlantic region, and Deering, a wildlife enforcement officer with Environment Canada's Prairie and northern region, could see Highway 102, the likely route of their quarry, as well as a wooded area at Crystal Beach, across the Saint John River, where two more officers had under surveillance a house on Woodmans Point, about half a kilometre away.
At 7:30, Ehler received a message from the Crystal Beach team about activity at the house. The garbage was being taken out, curtains were being drawn. It looked like the occupants were preparing to leave. According to intelligence provided by the U.S. Fish and Wildlife Service, the target of the stakeout, Gregory Logan, a retired RCMP officer, was planning a trip to Bangor, Maine that day to deliver contraband. The day before, the officers at Crystal Beach had observed him carrying a narrow, two-metre-long object wrapped in a black material to a beige 2004 Chevy Avalanche parked in the driveway, where he affixed it to the underside of the truck.
Ninety minutes later, Logan and his wife, Nina, left their home. As anticipated, they pulled out onto Highway 102, which, a little more than hour later would bring the couple to the Milltown Port of Entry at Calais, Maine, unaware that a caravan of carefully positioned vehicles was tracking their route. One of the chase vehicles would follow for a while, then exit and fall to the back of the pack as another took over so Logan would never look in his rear-view mirror and see the same vehicle behind him for long.
In the language of crime novels, the noose was tightening.
Two years later, on Dec. 14, 2011, Environment Canada charged Gregory and Nina Logan with 28 counts under the Wild Animal and Plant Protection and Regulation of International and Interprovincial Trade Act (known by the ungainly acronym WAPPRIITA). While the charges against Nina Logan were later dropped,the investigation — dubbed Operation Longtooth and also involving the enforcement divisions of the U.S. Fish and Wildlife Service and the National Oceanic and Atmospheric Administration — would eventually lead to a guilty plea and acknowledgement by Gregory Logan that between 2003 and 2009, he illegally exported and sold an estimated 250 narwhal tusks to U.S. buyers for a total price of nearly $700,000.
The smuggling of narwhal parts — tusks, skulls, teeth and carved ivory handicrafts made from tusks — is only a small part of the $3-billion illegalglobal trade in wildlife and wildlife parts,but it involves one of the most mysterious and exotic of all marine mammals. No less exotic is the story of Operation Longtooth itself, which revealed a shadowy network of antique dealers, curiosity collectors and informants. Most important of all, it was the biggest success story in the history of Environment Canada's wildlife enforcement branch and a model of cooperation between two countries — a case study of the enforcement side of wildlife protection.
Calais, Maine, is a sleepy town of about 3,000 best known for having three border crossings into the U.S. over the St. Croix River from St. Stephen, New Brunswick. At 10:33 a.m., the Logans lined up in a queue of cars at one of the crossings and 10 minutes later were waved through, as had been pre-arranged by U.S. authorities. According to the original plan, that should have been where Ehler, Deering and their team handed off the surveillance to their U.S. counterparts, with whom they were in constant contact. But some of the U.S. officers had been involved in another big case the previous evening and were running late. That posed no problem. Although once in the U.S. the investigation fell under the jurisdiction of U.S. Fish and Wildlife officers, the Canadians had been authorized to work under their direction if necessary. Custom officials let them pass
The team would need the extra hands, as a lot can go wrong on any surveillance operation. If Logan became aware he was being followed and discontinued his smuggling operation, authorities on both sides of the border would have a weaker case to present in court. And Logan was no ordinary suspect. As a former a RCMP officer, the wildlife officials feared he might wise up to the events unfolding around him. "We knew he had general duty experience with the RCMP," says Deering, a six-foot tall, 42-year-old who has a degree in conservation law enforcement. "And we knew that later he was with major crimes. But we didn't know how much surveillance training he'd had, or whether he'd been trained in counter-surveillance. He might be taking steps to determine whether he was being investigated. We didn't want to draw any attention to our operation."
At 9:55 (because of the switch from the Atlantic to the Eastern time zone, it was now an hour earlier in Maine), the Logans drove to a bank in Calais and from there pulled into the parking lot of Marden's, a Maine-wide chain of discount department stores. Logan, on this day wearing sneakers, khaki shorts and an off-white T-shirt, entered the store with his wife. Deering followed close behind to keep an eye on them while Ehler, still outside, watched as a U.S. Fish and Wildlife officer approached the driver's side of the truck, knelt down and looked underneath. He later confirmed that the long, black-wrapped object was still there, affixed with electrical ties.
Half an hour later, the Logans left the parking lot, drove south on Main Street and turned west onto Route 9 for the roughly two-and-a-half-hour drive to Bangor. Close behind was "the eye," the lead car in a surveillance operation that follows the target, describing streets, key buildings and landmarks to the rest of the team. Or, in this case, the panoramic views of spruce forests, glacial bogs and blueberry barrens along a twisting, two-lane highway known as "the Airline."
At noon, about halfway to Bangor, Logan abruptly pulled off the highway, made a U-turn and backed along a side road into a secluded, heavily forested area. The current rotation meant Ehler and Deering were following "the eye" (a two-man team from U.S. Fish and Wildlife), who drove past, reporting what Logan had done. Ehler and Deering had to make a quick decision. Was Logan doing a "heat check," to see if he was being followed? How to handle the line of vehicles — the Canadians and several U.S. Fish and Wildlife officers — following at staggered distances? If Logan became suspicious, he might abort the trip. Driving casually past the side road, they instructed the others, "Hold back until he's on the road again," and pulled into a dirt road further down the highway where they could see Logan's Chevy once he resumed the drive to Bangor.
One of the Fish and Wildlife officers managed to make his way through the woods and got close enough to see what Logan was doing. He had taken from underneath his truck the long object and packaged it into a plywood box, which he then put in the back of his truck. "He's mobile again," the officer reported, but Ehler and Deering relaxed only when they saw Logan was back on the highway toward Bangor. The surveillance resumed. (Where Logan had parked, the officer recovered plastic electrical ties and observed long indentations in the soil and grass.)
At 1:15, Logan took the Banair Road exit to Bangor and drove directly to a FedEx outlet.
"By the time we reached Bangor," Ehler recalls, "U.S. agents started appearing from out of nowhere. There were vehicles coming from left and right, so we held back and let them take over."
At FedEx, Logan went inside with the long plywood box. Once he'd left, U.S. investigators inspected the shipment and found two narwhal tusks, one measuring 1.8 metres, the other 2.2 metres. Mission accomplished.
For centuries, we've been fascinated by the mysterious, romantic narwhal, the "unicorn of the sea." A medium-sized whale with a distinctive spiral tusk that can grow up to three metres long, it lives in shifting cracks in the Arctic sea ice, mainly in Greenland and the Canadian Arctic.
Centuries ago, ocean-going traders sold narwhal tusks as unicorn horns for many times their weight in gold (ground up, the tusks were thought to be an aphrodisiac and a treatment for poisoning). In the 16th century, English explorer Martin Frobisher, returning from an expedition to the Canadian North, presented a horn to Queen Elizabeth I, who kept it in her cabinet of curiosities. As explorers and naturalists learned more about the world's animals and fish, the "sea-unicorn" was identified as a whale with a long tusk. The Swedishzoologist Carl Linnaeus, in his seminal Systema Naturae written in the 18th century, called it "narwhal" from the Norse word nar, or "corpse," referring to the mammal's mottled grey pigmentation thought to resemble the flesh of a drowned sailor.
oday, with an estimated population of 75,000 to 80,000, the narwhal is identified as a species of "special concern" by the Committee on the Status of Endangered Wildlife in Canada (COSEWIC), meaning that narwhal are not "threatened" or "endangered," but do face risks. The Inuit are permitted to harvest a restricted number — they use the skin, meat, organs and blubber (the top layer — the maqtaq — is a prized delicacy) and sell the tusks or fashion them into art. Tusks sold in Canada must carry tags indicating they were obtained in a legal Inuit hunt and generally fetch around $125 per foot. But the big money is in resale to collectors in countries with import bans such as the U.S., where the trade is prohibited (with a few specific exceptions) under the Endangered Species Act of 1973 and the Marine Mammals Protection Act. Restrictions also exist in a number of other countries because narwhal are listed in the 170-nation Convention in International Trade in Endangered Species of Wild Fauna and Flora (CITES).
Despite layers of regulation and controls, it is possible to legally buy and sell narwhal tusks or other parts, but it requires a lot of documentation. Reputable sellers won't touch a tusk that doesn't come with a harvest tag, which keeps track of the number of narwhals killed to ensure hunters don't go over the annual quota. A marine-mammal transportation licence is required to take tusks out of Nunavut. To remove them from Canada to one of the countries where it's legal to import them requires various CITES approvals and permits from Fisheries and Oceans Canada.
Still, for anything desirable and potentially profitable, even if it's heavily regulated and subject to criminal codes (from drugs to weapons to exotic animal parts), there will be a black market. This is what lured a former RCMP officer over to the wrong side of the law.
Check your December issue of Wildlife Update for the continuation of this fascinating story!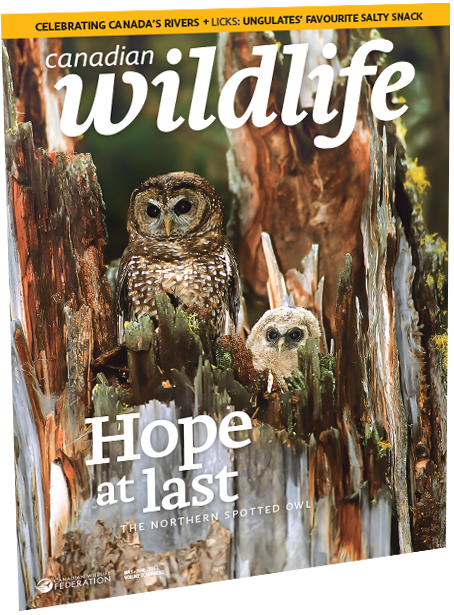 Reprinted from Canadian Wildlife magazine. Get more information or subscribe now! Now on newsstands! Or, get your digital edition today!