By Sara Chesiuk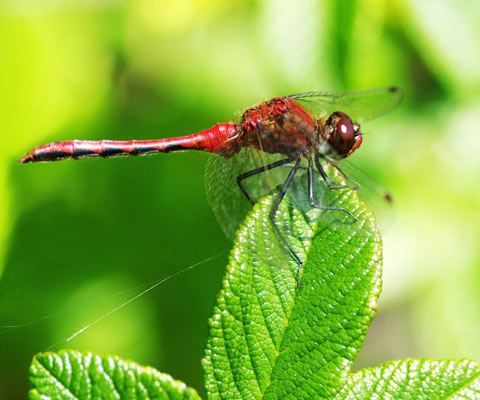 Photo: Jacques C. Pelletier
Turns out turtles and alligators aren't the only living creatures that roamed the Earth with the dinosaurs. Dragonflies and damselflies, part of the Odonata order of insects, have been zipping around for over 300 million years. And their variations are staggering; there are more than 5,000 members of this species throughout the world and 650 are right here in North America's wetlands.
There are currently 145 dragonflies and damselflies in Atlantic Canada, making it an excellent spot to assess their diversity and status. The Canadian Wildlife Federation has granted $4,815 to Dr. Donald McAlpine, research curator and head of the zoology section of the New Brunswick museum, who has put together a team of specialists and volunteers to catalogue and monitor the species in New Brunswick's Jacquet River Gorge Protected Natural Area . Because dragonflies and damselflies live in unpolluted water, their findings will be a good indication of the biodiversity and overall shape of Canadian wetlands.
Give a Darn for Dragonflies and Damselflies
From gestation to adulthood, damselflies and dragonflies can be found in and around bodies of water. They lay their eggs in aquatic plants or straight into the water. Once hatched, many species spend the majority of their lives underwater in their nymph stage feeding off of mosquito larvae and other aquatic insects and worms; some even eat tadpoles and small fish! Since dragonfly and damselfly diets don't change much once they reach adulthood (essentially when they grow wings), they don't tend to stray far from the water. Considering wetlands contain various watery habitats for these flies such as bogs, marshes and ponds, the health of these ecosystems is very important for their survival. Coincidentally, the health and numbers of dragonflies and damselflies are important to figuring out the status of our wetlands.
Wonderful Wetlands
Wetlands are beneficial to humans for many reasons. For one, they act as a natural water filtration system purifying ground and surface water. Secondly, they help control flooding by stabilizing shorelines. Lastly, wetlands store vast quantities of carbon – making them a superpower against climate change.
Though wetlands are considered the most biologically diverse of all ecosystems and are homes to hundreds of species of plants and wildlife, they are unfortunately one of most threatened ecosystems around the world. And today current populations of dragonflies and damselflies are in decline, largely due to the loss of or health of their habitats.
How McAlpine's Research Fits In
If we can catalogue the number of damselflies and dragonflies in a given wetland and then monitor their status, we can in turn monitor the state of the wetland itself. The more dragonflies and damselflies, the healthier the habitat. Dr. Donald McAlpine's "Dragonflies of the Protected natural Area: Baseline for Aquatic Monitoring," is designed to do just that.
The Jacquet River Gorge site includes a mix of wetlands including bogs, small streams, a large lake, abandoned quarry pools and beaver ponds. Using a range of methods to collect the dragonflies and damselflies, Atlantic regions most experienced odonatologists, including Halifax-based odonate specialist Paul Brunell, will record the dragonflies and damselflies (both flying adults and aquatic larval forms) in the area. The goal of this project is to develop a better understanding of the biodiversity in New Brunswicks' 10 largest protected natural areas and to provide an outline for long-term monitoring of wetlands and other fresh water habitats. Canada's wetlands represent 25 per cent of all wetlands on Earth, making the Jacquet River Gorge project instrumental in biodiversity research.