By Annie Langlois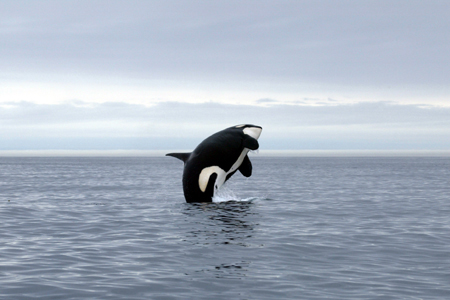 The killer whale may seem fearsome, but it's actually a highly intelligent and family-oriented creature. This recognizable cetacean, also known as an orca, is the largest member of the dolphin family. It lives in family-related groups of 10 to 40 individuals called pods. , Offspring often stay with their parents in these pods throughout their lives.
The species is divided in five distinct populations: the northwest Atlantic/eastern Arctic population, the West Coast transient population, the northern resident population, the southern resident population and the offshore population. Other than individuals in the northwest Atlantic/eastern Arctic population, all Canadian killer whales are found in the Pacific Ocean. Because of their different needs, each population has its own status according to the Committee on the Status of Endangered Wildlife in Canada (COSEWIC). All five populations are at some level of risk. The Arctic and the Atlantic populations are of Special Concern, the Southern Resident population of the Pacific is Endangered. The remaining three populations are Threatened.
Look Who's Talking
Within their pods, killer whales communicate very effectively via a complex range of sounds that vary from pod to pod, with each group having its own unique dialect! This species also hunts using sound: they produce clicking noises that bounce off objects in their surroundings, a process called echo-location, which enables it to find prey in murky waters. The fact that pods will hunt much bigger animals, including other whale and dolphin species like the blue whale, may have been responsible for its fierce reputation. It also eats squid, fish, sea turtles, sea birds, sea and river otters, sea lions and penguins. But different populations have different food sources: resident whales mainly eat fish, while transient whales that like to roam the sea opt for marine mammals as their main source of food.
"I'm Easy"
Killer whales aren't picky when it comes to the waters they swim in. Never mind the water's depth, temperature or salinity, they'll swim in them all although they do seem a bit partial to colder waters. In Canada, they inhabit all of our oceans. They can also be found occasionally in Hudson Bay and in the Gulf of the St. Lawrence.
Growing Up is Hard to Do
Although killer whales have no natural predators, nearly half of all killer whales die before the age of six months. Moreover, females don't give birth to their first calf until they are about 15 years old and they calve only once every five years on average. Consequently, killer whale populations tend to have extremely low growth rates, making the species even more vulnerable to threats like the accumulation of toxic chemicals in the food chain and variations in food availability. Disturbances caused by boats may also have a negative impact. The federal and BC governments have worked on conserving the species; marine conservation areas have been created to protect the killer whale's habitat.
To learn more about this species, and what you can do to help, tune in to hww.ca during Rivers to Oceans Week, June 8th to 15th 2011 for the premiere of Hinterland Who's Who newest video, all about the killer whale.