By April Overall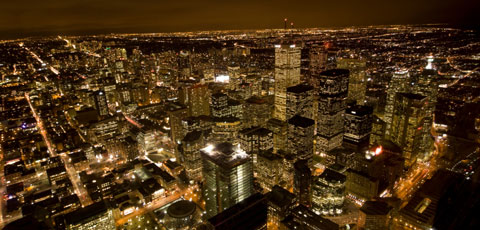 Do you remember gazing at the stars when you were a kid and trying to make out the big dipper? Well these days, you'd be lucky to find an eight-year-old who's seen the big dipper, let alone knows what it is. Thanks to Thomas Edison's light bulb moment, up to 63 per cent of the world lives in areas where bright city lights outshine the sky's brightness by 10 per cent. But did you know lighting up the night can actually harm nocturnal animals and wildlife?
Struggling Under the Sea
Studies show that artificial light can actually throw a wrench into the reproductive activities of corals, which reproduce based on moonlight timing. Moreover, many marine organisms rely on the darkness of the depths of the ocean to survive; even a smidgen of light can expose them to predators. Sea turtles choose dark beaches to nest so that their hatchlings will be drawn to the bright sea horizon, but with city lights creating their own hazy illumination, these tiny turtles are heading toward the land behind the beach. In Florida alone, hundreds of thousands are killed every year.
Putting Out the Fire
With only two or three weeks to live in their adult stage, fireflies have to work quickly if they want to find a mate. Males will search through the night, blinking all the while until they find a female who blinks back. Problem is, females aren't the only ones turning heads. The light emanating from buildings, flashlights or even the headlights of vehicles attract male fireflies, sending them in a tizzy but no closer to finding a mate.
Night Fright
With artificial lights illuminating the night, nocturnal animals like rodents, bats, badgers and opossums don't stand a chance to catch a bite without looking over their shoulders for predators. If their nests are lit up, bats might abandon them or tuck in and wait until the lights are extinguished before heading out to chow down.
Fears for Our Feathered Friends
Every year, millions of songbirds depart Central and South America, the Caribbean and Mexico back to the comfort of our own backyards, only to return to their southern abodes in the fall — all under the cover of darkness. According to Toronto's Fatal Light Awareness Program, 100 million birds in North America die on this journey every year. When bad weather hits — particularly high cloud cover, precipitation or fog — these birds are forced to fly at lower altitudes where they'll be attracted to tall lit buildings, communication towers, light beams at airports, floodlit obstacles and lighthouses. In Toronto, FLAP has found over 140 species of birds that have collided with buildings, including white throated sparrows, ovenbirds and common yellowthroats. Half of these birds die of head trauma, broken beaks or feather damage. The lucky ones that survive a collision can easily become trapped in streams of artificial lights — flapping in the beam until they collapse from exhaustion or become disoriented.
Artificial lights also make songbirds work overtime. Robins, blackbirds and nightingales have been found to strike up a chorus at the sight of minimal artificial light, confusing this light for the break of dawn. Moreover, studies show the longer the sky is lit up, the earlier a variety of birds will breed and, since they're able to feed longer into the night, it can also set migration schedules out of whack.
Give a Bird a Break
Do campaign to switch off lighting systems from 11 p.m. to 7 a.m. in your office and apartment buildings.
Don't let vanity lighting like rooftop floodlights burn into the night during periods of migration. If you must use them, use red strobe red lights, which researchers have found birds to be less attracted.
Do install motion sensitive lighting.
Do turn off overhead lights and use task lighting.
Don't use overhead lighting without closing the blinds.
Do swap mercury vapour bulbs for sodium bulbs — lights with a yellow undertone are less attractive to roaming songbirds than whitish blue lights.