April 12, 2016
By April Overall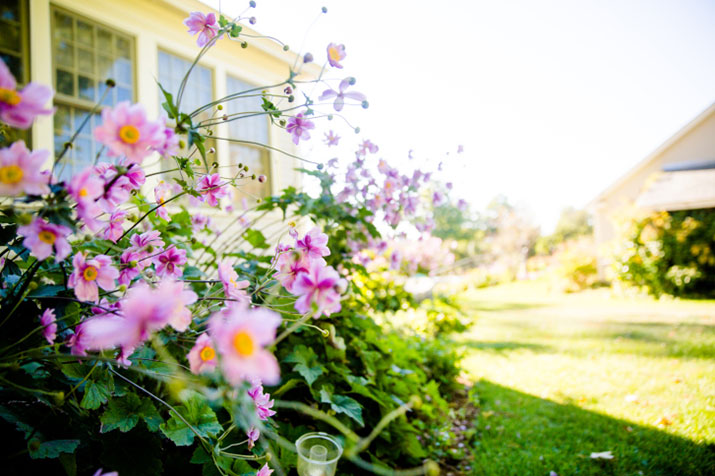 Certify Your Garden
When you certify your garden with CWF, you will know that you've created a haven for wildlife on your property. Offering wildlife food, water and shelter helps them survive the coldest winters and the hottest summers. Why not get certified by CWF at the same time?!
When I started at the Canadian Wildlife Federation, I was in my mid-twenties, single and living in downtown Ottawa. I never imagined a life in the suburbs. In fact, I distinctly remember proclaiming to my coworkers that I was always going to be a city girl. Fast forward a few years and my husband and I are building a house in the burbs. Note to self: never say never.
I've had a blast pouring over samples and picking every last detail of our home, but now, as we inch ever closer to our move in date, the guilt is starting to settle in. I know that by building a new home, I am essentially robbing wildlife of their home so I could have my own. And that doesn't sit right with me. I've realized that the only way that I can really call my house a home sweet home, is if I make things right. For me that means offering what little outdoor living space I own to wildlife.
CWF TO THE RESCUE
Working at the Canadian Wildlife Federation, I'm blessed to have gardening experts as coworkers and so much information at my fingertips that I could spend weeks at a time sorting through it all. With CWF's guidance, I've learned that to be wildlife-friendly, an outdoor space needs to offer wildlife food, water, shelter and space. I know that I need to avoid the use of pesticides at all costs and fill my garden with native plants since they're better able to meet the needs of local wildlife than other flora.
A LITTLE CAVEAT
Before I divulge my plan with you, I should mention that I'm a novice gardener and even my mother has stopped buying me hanging plants for my apartment balcony as too many have met untimely ends. I should also mention that our new house has a rather tiny backyard. How tiny? Imagine a small backyard in your head; now divide that space in half and you'd have it just about right. So I'm up against some challenges. But instead of throwing up my hands, I'm getting intentional and leaning on my values. I've decided to do my utmost to create a little haven for the wildlife I'm particularly concerned about - species whose populations are dwindling. And I'm also making room for animals that make me smile – I'm a sucker for cute and fuzzy wildlife. These species deserve a "mi casa es su casa" kind of welcome. And so I'll work towards that - one gardening project at a time.
FOR THE BIRDS
I've always had a soft spot for birds. I once missed my school bus desperately trying to save a Robin from a neighbourhood cat (I won!). Every time Ottawa gets hit with a cold snap, I worry about how the birds are handling it. So naturally I'd like to offer my favourite birds a little place to rest and recharge. For these lovely winged friends, I'll:
Set up a hopper feeder near our bay window and fill it with sunflower seeds – a favourite for Cardinals, Juncos, Chickadees and more
Offer a silo feeder jam packed with niger seeds for the Goldfinches and House Finches
Add a bird bath to offer my feathered friends a spot to quench their thirst and cool off
Plant fruit bearing shrubs and trees like Dogwood and Serviceberry – not only will they offer a midday snack for Waxwings and Robins, they'll also offer shelter from the elements and predators
Put up a nesting box in a sunny spot in my backyard
FOR THE TOADS
According to the Committee on the Status of Endangered Wildlife in Canada, there are 41 species of amphibians at risk in Canada. It's easy to focus on helping the cute and fuzzy, but frogs, salamanders and toads really do keep our ecosystems in check (plus they love to nosh on pesky bugs like earwigs!). If my backyard was larger, I'd definitely build a pond to attract frogs (they need a water source to get by), but as you know it's tiny so I'm narrowing in my efforts on toads. Did you know a single toad can eat well over 1,000 earwigs in a summer? Pretty impressive!
I'll be creating a toad house in a shady little spot in my backyard and I'll also be placing logs in our window wells – offering an escape route for toads (and snakes too!) if they ever fall in.
FOR THE BUTTERFLIES
I was thrilled to learn that the Monarchs seem to be bouncing back this year. But I'm not really willing to take the chance that their numbers will keep climbing and they won't need help from Canadians. For my favourite butterflies, I'll:
Avoid the use of pesticides in my yard – they're killers to these delicate creatures
Plant Milkweed since this plant (which many think of as a weed) is crucial for the survival of Monarch caterpillars
Create a walking path from my front yard to the backyard using flat stones which can multitask as a spot to bask for Monarchs and other butterflies too
FOR THE BEES
I have a confession to make. I'm deathly terrified of bees. Not deathly allergic. Just irrationally afraid of them. On my first date with my husband, I found myself flailing around on a rooftop patio after a bee got too close for comfort. How I landed a second date, I don't know. But this damsel in distress is willing to put her fears aside because we all know that a world without bees would have a momentous negative impact on our lives (they are responsible for one out of every three bites of food we eat, you know).
To make everyone happy I'll be planting good sources of nectar that bees go crazy for in the front yard. Plants like Serviceberry, Dogwood, Wild Rose and Blue Vervain will keep the bees buzzing about my property from spring until autumn.
Now to set my plan in motion! Will you join me?