May 15, 2015
By Jerika Bradford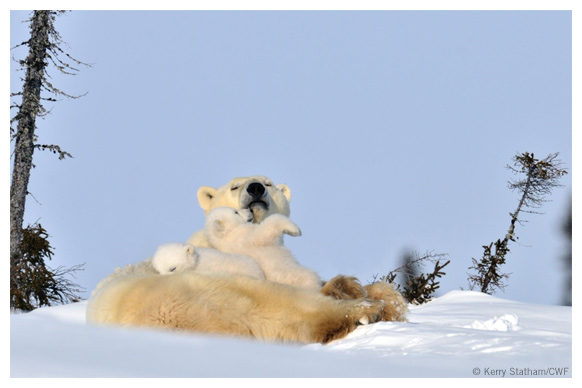 In celebration of Mother's Day, we'd like to tip our hats to some of the most amazingly devoted mothers in the animal kingdom.
The Perfect Role Model
Female polar bears will put on over 200 pounds to prepare for her four to five month long food hiatus while she births and cares for her cubs in the den. When spring makes an appearance around March, she and her cubs will emerge from the den. Over the next two and half years, cubs will stick close to their mothers to learn all the survival tips and tricks before they take off on their own.
A Taste for Tentacles
Pregnant octopuses will starve themselves in order to protect their eggs! They'll lay their eggs and guard them for a month; they never abandon them for a second – not even to get food! If females get a little peckish, they'll just eat one of their own tentacles. Ouch! Unfortunately once the eggs have hatched and float away, females often die as they become too weak to defend themselves against predators. Now that's the ultimate sacrifice.
Momma Insomnia
Can you imagine not sleeping a wink for an entire month? Well that's exactly what orcas and bottlenose dolphins experience so they can tend to their calves. Calves do not sleep for an entire month after they are born which means their mothers don't either!
Hitching a Ride
Most spiders lay their eggs in a web and take off, letting the eggs fend for themselves —but not the wolf spider. Wolf spiders strap their eggs to themselves and carry them around. Once the little ones hatch, female wolf spiders continue to care for them, even letting them hitch a free ride on their backs until the young are old enough to care for themselves.
Tropical Nursery
Every October, eastern pacific gray whales begin their two to three month long journey from the west coast of Canada to the safer and warmer water lagoons in Mexico where pregnant whales give birth. Calves will feed on nutrient-rich, high-fat (53 per cent fat) milk for three to five months so that the little ones grow strong for the trek back to cold Canadian waters. Mothers will actually grow hungry and lose weight as their calves nurse, but they make this sacrifice understanding that the Mexican lagoons are truly the safest places for the young to grow.
24/7 Babysitters
A breeding pair of scrub jays will have up to six non-breeding adults in their territory. These non-breeding adults are the breeding pair's previous offspring that stay with their parents for two to three years. During this time non-breeding adults become the ultimate babysitters and help to take care of young chicks. How handy! They also stand guard and defend their territory against other scrub jay families trying to move in and watch out for predators. After two to three years, non-breeding scrub jays take off to find a mate to start their own family.