February 12, 2016
By WILD Magazine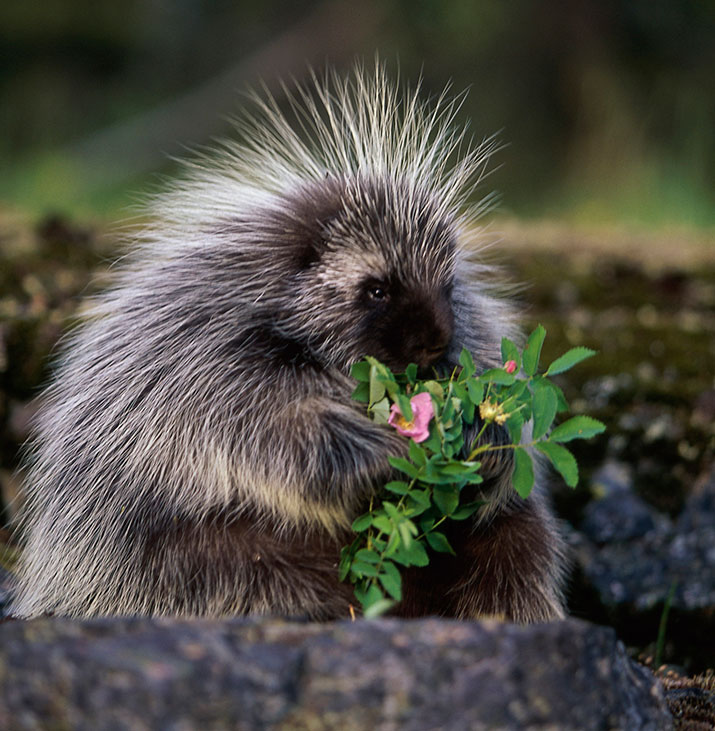 Reprinted from WILD magazine. Get more information or subscribe now! Now on newsstands! Or, get your digital edition today!
Valentine's Day is a time when we tell our friends and family how much they mean to us. It happens in nature, too — sort of.
Animals do form special relationships with partners. It's part of the breeding process. But only some of the stories come with hearts and flowers.
Porcupines
Would you hug a porcupine? We wouldn't, but someone's got to do it. The good news is that the job falls to other porcupines. Phew!
Mating season for these prickly mammals begins in the fall. The exact month depends on whether the animals live in the northern or southern parts of their range. But males can't miss the start. That's because females climb to the tops of trees and start screeching to attract attention.
If a male is interested, he'll follow the female around, singing to her with grunts and humming. If the pair likes each other, they'll get up on their hind legs and start to dance. Sometimes, they'll put their paws on each other's shoulders and rub noses. They may even play fight.
But when mating is over, the happy times come to an end. One of the partners will climb a tree and scream at the other if it tries to follow.
Sage Grouse
When it comes to getting attention, few animals do it better than male sage grouse. Their mating season arrives during spring on the Prairies, and they flock to flat, grassy areas known as "leks." There, they puff out their chest feathers and strut around to claim breeding territory. It's quite a dance — with the occasional fight for the best breeding spots.
Females arrive at the leks a few days after the males, and the males start strutting again. They fan their tail feathers, puff out their chests and make popping sounds. Some people say the popping noises sound like corks flying out of champagne bottles.
Next, the females will move around to check out the males. When a female finds a male she likes, she will crouch down and spread her wings to signal she's ready to mate. Afterwards, she'll head off alone to find a nesting space.
Whooping Cranes
Whooping cranes are big birds — the tallest in North America. They are also loyal birds when it comes to breeding. When they choose partners, they choose them for life.
Mating among whooping cranes begins when the birds are between two and three years old. Males and females start pairing off, but they take their time before deciding to have a brood of chicks.
At first, a pair of whoopers will spend lots of time together, walking and making calls. They'll even dance by jumping up in the air and flapping their wings.
This part of the relationship can last between one and three years before mating occurs.
When a pair of whooping cranes decides to have chicks, they do a new dance. They walk together slowly with their long beaks pointed toward the sky. They will also make quiet growling sounds.
Both the male and female cranes take care of the eggs after they are laid. They also share the work of caring for the young when they hatch.