October 12, 2017
By Mike Anissimoff, Bat Conservation Specialist at CWF
The first time I held 50 million years of evolution in my hand it quickly became apparent that I was not the center of the universe. Echolocation, wings, bending bones, and a fur coat? Impressive.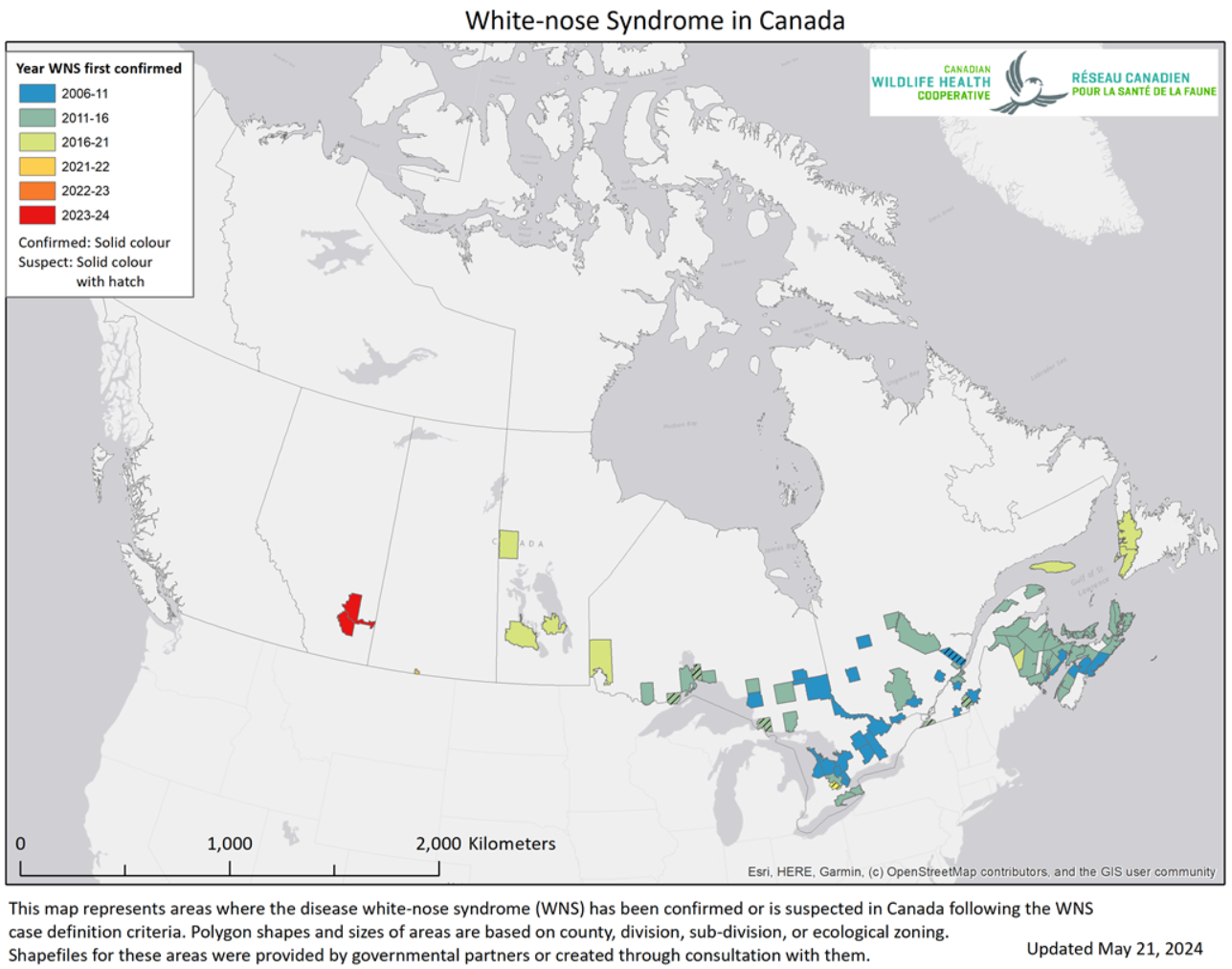 Bats are fascinating and more important to our well-being than you could ever imagine. They make up about 20 per cent of all classified mammal species in the world. That's over 1,300 bat species and counting! Canadian bats offer the ecological service of being insectivorous and controlling insect populations; nature's pesticide if you will. Across North America, bats work hard and save the agricultural industry billions of dollars each year in pest control. They also keep those pesky mosquitos in check!
Threats to Bats
It kind of sounds like we have a lot of bats. And we did, that is, up until the outbreak of white-nose syndrome in 2006. If white-nose syndrome was not enough, add in habitat loss, pesticides, and wind turbines and you get a grave situation. . These threats, compounded by the fact that bats have very slow and particular population growth rates, mean that the population of some bat species will not recover without our help. Take the Little Brown Bat, for example. Once the most common bat species across North America, this species has lost over seven million members to white-nose syndrome in the last ten years alone. With a birth rate of only one pup per year, it's safe to say that these bats are on their way out. That's why they need us to step in and help now.
Bats in Your Backyard
So, how can you help? You can start by installing a bat house and telling all of your neighbours about it! Providing a cozy retreat to a bunch of little expecting mothers in need is a great way to promote bat conservation and aid their population recovery at the same time. Don't worry about the males for now, they tend to be a little more solitary.
Living With Bats
If you find bats in your home, chances are you've been living with them for years and were none the wiser. Why worry now? I get it. You're worried about rabies and histoplasmosis? Yes, a bat can carry rabies. But then again, so can you, your pet dog, the neighbour's cat, or that squirrel negotiating with your bird feeder. The same can be said about histoplasmosis - a respiratory illness caused by the inhalation of fungal spores found in the feces of many different animals; again, including humans. So, as long as you take the proper precautions and don't go rummaging through poop on the regular, you should be able to maintain your health.
Many people across North America, Europe and beyond, actively retrofit their households in order to provide bats with a safe roosting location. Say what?! Give it some thought and you might come around to the idea. Containment is key to keeping separate living quarters. Otherwise, a bat may make its way down stairs and join you for a little wine and cheese (typically a juvenile who got lost on their way to dinner and ended up at the wrong party). So, how do you contain them? It's simple. Blockages, partitions, and specific entry/exit points are a few simple retrofits that encourage bats to hang out in a specific area of the attic. Provide them with a specific roosting site and a drop sheet to capture the guano, and they'll be all set. You'll want to clean the sheets once or twice a year so mark your calendar. .
What Now?
There are plenty of ways to help out, even with little effort. Check out Helpthebats.ca and get acquainted with the Canadian Wildlife Federation's efforts to promote bat conservation and, if you are still curious or not convinced, send me an e-mail! Our survival depends on the interconnectedness of systems we may never fully understand. Bats are an important element of these systems. Bats are important, and they need our help.