September 15, 2016
By April Overall and Kimberley Davies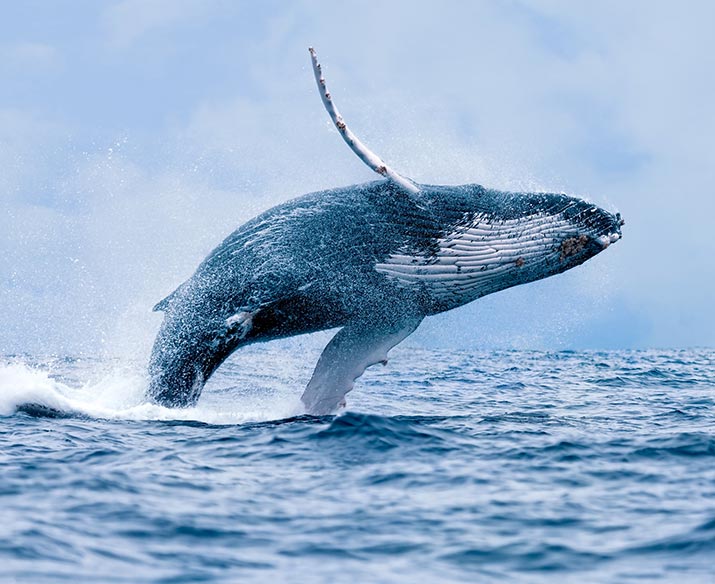 Have you ever heard a humpback whale sing? It's a beautiful, profound experience. Humpbacks sing a variety of songs and change up their repertoire every year. Indeed all whale species use their voices underwater. They call out to communicate, navigate and some even use their voices to find food. Some species, like the Blue Whale, make very simple low frequency sounds that they use to communicate with each other over great distances, sometimes hundreds of kilometres. Fascinating.
This summer, the Canadian Wildlife Federation began to follow the Whales, Habitat and Listening Experiment (WHaLE) Project as they used the sounds these majestic creatures emit to help conserve these at risk mammals. You see we still have so much to learn about our whales, like where exactly they spend their time while in Canadian waters. It's critical that we solve this mystery because then and only then will the government be able to establish protected areas around sensitive whale habitats.
There have been some important whale habitats in Atlantic Canada that have become Marine Protected Areas, however they make up less than one per cent of the Atlantic Canadian continental shelf. How do we protect the whales from threats for the remaining shelf area? The Government of Canada is stepping in and has committed to conserving 10 per cent of Canada's oceans as Marine Protected Areas by 2020.
Using gliders (unmanned underwater drones) in the Atlantic Ocean, researchers of the WHaLE Project are able to detect, listen and record whale sounds so they can track where these species are located. The information that we collect with these surveys will be critical to establish protected areas so we can conserve more whales.
Until we act, threats like ship strikes, entanglement in fishing gear, climate change and noise pollution will continue to pose a real threat to our majestic whales.
Ship Strikes
Ship strikes are a leading cause of known mortality for large whales, and all large whale species have been reported struck by ships. Many different industries operate large vessels that pose a risk to whales, including the shipping industry (did you know that 90 per cent of all our goods are transported by ship?), oil and gas (tanker transport), military, cruise ships, coast guard and recreational vessels.

The risk of ship strikes increase where whale aggregation areas intersect with shipping lanes and lethal strike increases with ship speed. Studies have shown that baleen whales do not avoid oncoming ships, or may even exhibit behavioural responses that increase their risk, like rising to the surface. Thankfully, some sensitive whale habitats have speed restrictions and rerouting measures in place to help reduce the risk.
Entanglement in Fishing Gear
Fishing gear entanglements are a major source of mortality among whales, and an entangled whale can suffer by dragging fishing gear for extended periods. While some whales are able to disentangle themselves, others, sadly, die as a result of entanglement.

Entanglements can occur in several different kinds of fishing gear, including longlines, drift nets, traps, pots or gillnets. Endangered North Atlantic Right Whales are especially vulnerable to entanglement – indeed, 75 per cent of Right Whales show scarring on their bodies consistent with entanglement. There are currently no fishery regulations to protect these animals from entanglements in Canada, although fishermen do their best to take measures that will reduce the risk.
Noise Pollution
Canada is home to the world's most majestic whale species – from the Humpback to the Blue Whale. Unfortunately, many of these beautiful animals are threatened or endangered. We need to do our part to save these animals. And to do that, we need to do a little digging to uncover where exactly these whales spend their time while in Canadian waters. Then and only then, will the government be able to establish protected areas around sensitive whale habitats.

Whales use acoustic communication to find each other in the vast ocean, while some also use acoustics to navigate and find food. And they rely on a quiet ocean acoustic communication space to communicate and locate prey. Unfortunately, many marine industries produce large amounts of noise within the same frequency bands as whales. For example, seismic oil and gas exploration uses large amounts of high acoustic energy to search for underground oil reserves, military use sonar to locate ships and submarines, and the engines of large vessels produce loud low frequency noise. These sounds may damage whale hearing, reduce their communication space, and disturb their natural behaviours.
Climate Change
Large whales migrate among calving grounds in the tropics and subtropics, to feeding grounds in temperate and sub-arctic regions, where large biomass of their food, zooplankton and small fish, are abundant. Researchers know that the distribution and migration patterns of our whales depend on the location of their prey. As our climate warms and our polar ice caps melt, the ocean circulation patterns are expected to change. We're concerned that it will alter the location of the prey they so greatly rely on, and therefore impact the whales.

Follow the WHaLE Project to learn about Canada's great whales and learn their key habitats in near real-time.